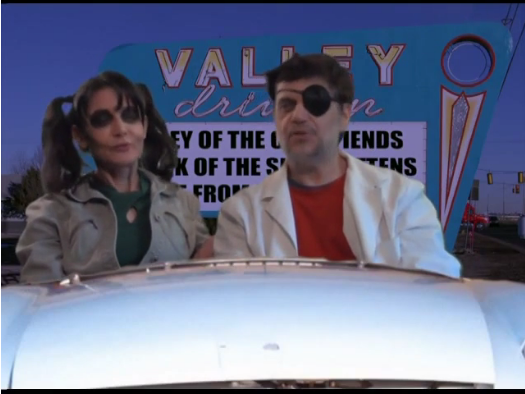 TO THE MOON – OR THEREABOUTS – WITH DR. DRECK AT THE DRIVE-IN TODAY ON BETA MAX TV!!!
Things get lunar, but with some bad map reading, today on The Dungeon Of Dr. Dreck for ROCKETSHIP XM.  Dr. Dreck, Moaner and the gang are at the drive-in for this 1950 sci-fi about a rocket to the moon that winds up on Mars where the astronauts find remnants of an advanced civilization and the cavemen-like people who live there now.  But something about this movie stinks and it just might be that Stu the Rat and friend Willard have brought their own snacks, aka – an overflowing garbage can!
So head to the Drive-In for some summer fun – but bring your own snacks – with Dr. Dreck and ROCKETSHIP XM on your home for B-movies…  and bad directions to the moon!  Beta Max TV!!!