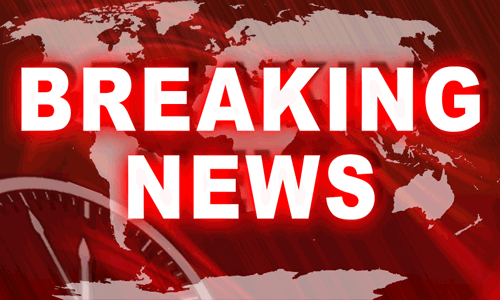 NOVEMBER 25:  FUN WITH GHOSTS FOR THANKSGIVING ON THE DUNGEON OF DR. DRECK!!!  Check out the News tab's top story for more details!
NOVEMBER 23:  THE MARTIAN INVASION STARTS TODAY ON DON'T BREAKFAST SERIAL!!!  Check out the News tab's top story for more details!

#  #  #

FRIDAY, NOVEMBER 27, 2020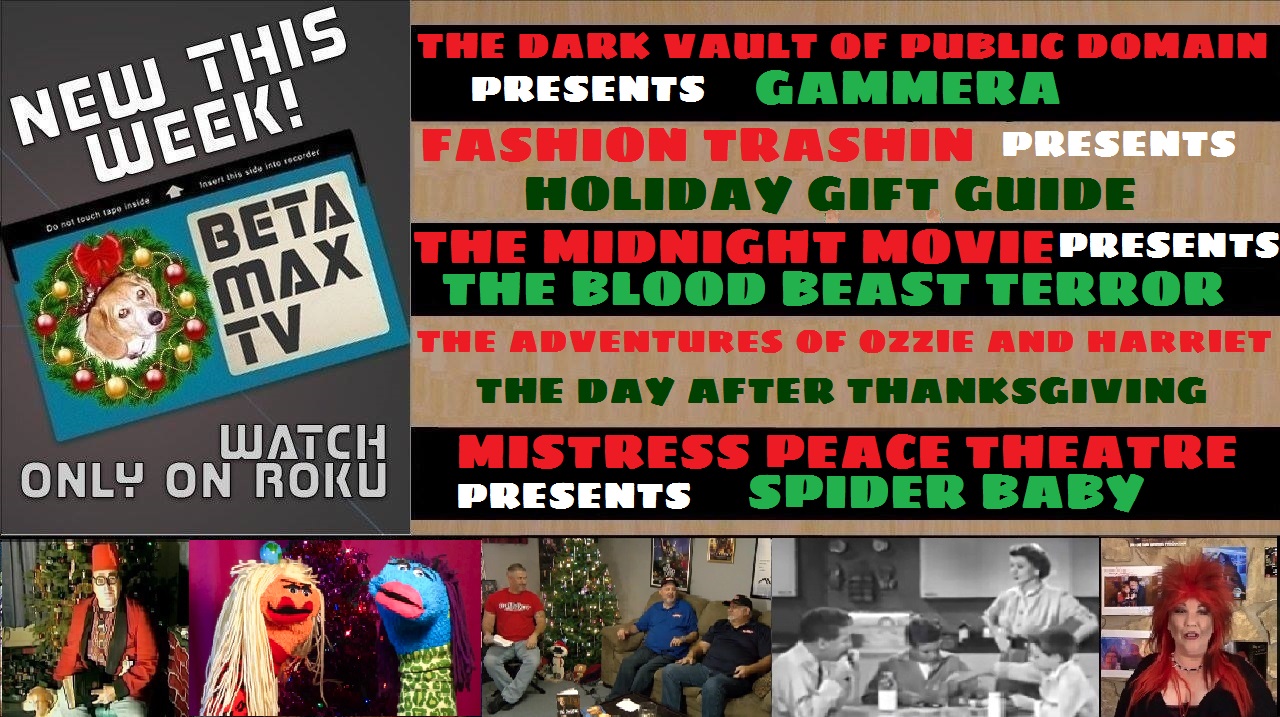 GIFT IDEAS, TWO BUGS, A TURTLE AND A LITTLE MORE TURKEY – GETTING IN THE CHRISTMAS SPIRIT ON THE FRIDAY FUN-TIME FIVE!!!
As Thanksgiving starts to fade and Christmas looms, Beta Max TV has some fun and frightening to keep the holiday festive going on today's FRIDAY FUN-TIME FIVE!!!
It's reptile destruction, mad science, and a great gift idea on The Dark Vault Of Public Domain with GAMMERA! (1966). An atomic blast rouses a giant fire-breathing turtle from his arctic sleep and he heads to Japan to do some stompin'! Uncle Pete is busy in the Dark Vault Lab working on a size enhancement formula for a secret client but trouble starts when it works too well on a robot test subject. Plus there's an ad for the Vitobot ™ – the gift that will be on EVERYONE'S Christmas list this year!!!
Speaking of gift ideas, look no further than this week's Beaucoup Askew's Fashion Trashin HOLIDAY GIFT GUIDE! Cinnamon and Diamond's guest is Roxxy Quattro who shares some interesting Christmas gift ideas. Santa pops in unexpectedly and gets a little frisky!
There's a bug that only wants blood – and death – for Christmas this year on The Midnight Movie. Triv and Ritch gather 'round the Christmas tree for THE BLOOD BEAST TERROR (1968). Peter Cushing stars as a detective on the trail of a were-moth responsible for a string of bloody deaths.
How about just a little more turkey? That's what the guys are after on The Adventures Of Ozzie And Harriet – THE DAY AFTER THANKSGIVING. After Ozzie and the family have Thanksgiving dinner at a relative's house, they're convinced they've eaten enough turkey for a good long time. But the next day, Ozzie and the boys develop a craving for turkey and start searching for leftovers anywhere they can think of! (1952)
And it's more bugs and a hungry plant on Mistress Peace Theatre with SPIDER BABY on the Hallowday Special II. Lon Chaney, Jr. plays a caretaker looking after 3 siblings with a bizarre genetic condition that regresses them to a creature-like state as they get older(1967). After getting inspired by a horror host's show on TV, Mistress decides to try her hand at horror hosting and along the way, feeds a clown to her plant friend Matcha
We've got some great shopping hints and some other stuff today in the FRIDAY FUN-TIME FIVE on your home for B-movies…and whatever holiday happens along! Beta Max TV!!!
FRIDAY, NOVEMBER 20, 2020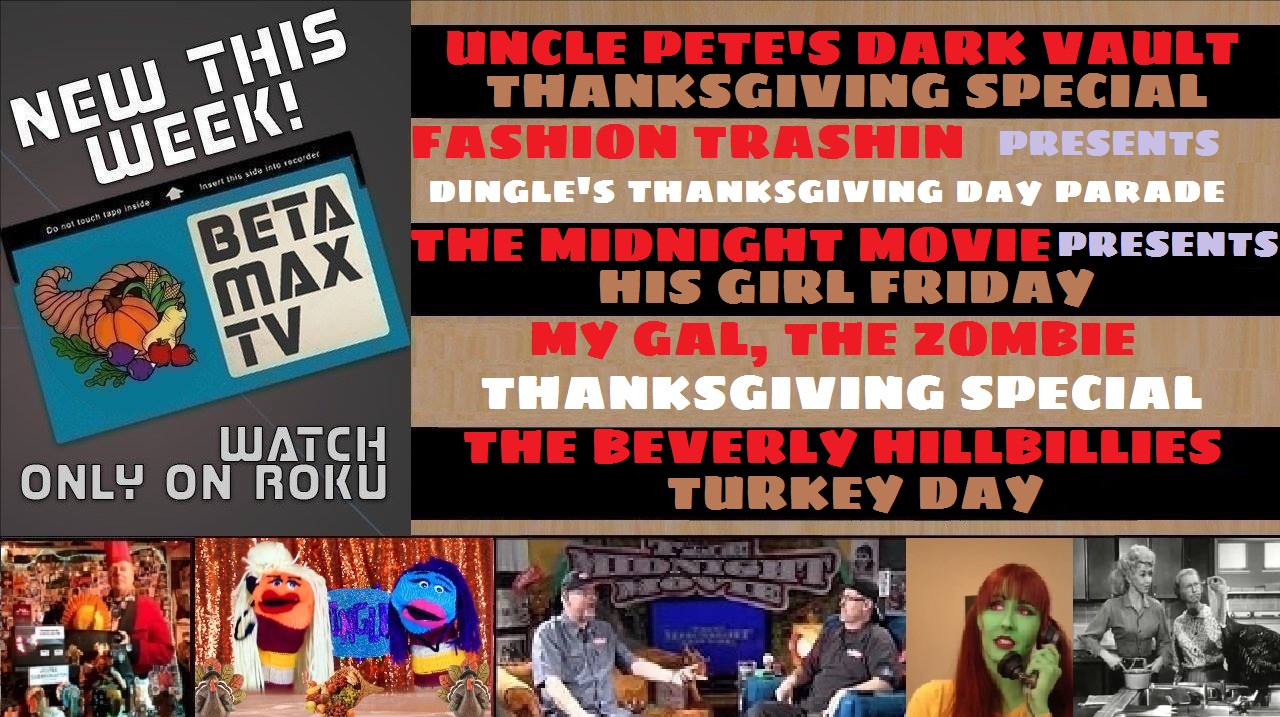 FOUR TURKEYS AND A DAME – IT'S A THANKSGIVING FEAST ON THIS WEEK'S FRIDAY FUN-TIME FIVE!!!
There's a flock of Thanksgiving features filling the FRIDAY FUN-TIME FIVE this week on Beta Max TV!
Uncle Pete has more turkeys than you can shake a drumstick at – and a giant alien bird – on Uncle Pete's Dark Vault Thanksgiving Special! While Uncle Pete's cookin' up a delicious dinner, he digs up a Calvin and the Colonel cartoon, tips on carving and The Giant Claw (1957) about a giant destructive bird creature from another dimension.
What's Turkey Day without a parade? And since there's not one in NYC this year, we're bringing you one right here from Beaucoup Askew's Fashion Trashin DINGLE'S THANKSGIVING DAY PARADE! Cinnamon and Diamond host the 150th Dingle's Department Store Thanksgiving Day Parade on Sunrise Blvd. in Hawlywood, Fallifornio! Dancers, balloons, special guests!!! Hey, who doesn't love a parade for Thanksgiving!
Then for halftime, we take a break from the turkeys for a classy guy and a debonair dame as Triv and Ritch and the gang host HIS GIRL FRIDAY on The Midnight Movie. Cary Grant and Rosalind Russel star in this 1940 screwball comedy about a newspaper editor who tries to keep his ex-wife ace reporter from remarrying.
Then it's back to the birds with the Clampetts on THE BEVERLY HILLBILLIES – TURKEY DAY from 1963. The Clampetts prepare for a big Thanksgiving dinner but Elly May decides the turkey would make a better pet than a main course!
And there's one more helping of holiday from everyone's favorite green girl on My Gal, The Zombie's Thanksgiving Special! My Gal The Zombie's friend Patricia takes over the hosting duties to present a collection of Thanksgiving themed shorts and cartoons including "Jerky Turkey" and "A Day Of Thanksgiving".
Gobble up all the goodies in our Thanksgiving Themed FRIDAY FUN-TIME FIVE on your home for B-movies…and turkeys turkeys everywhere!!! Beta Max TV!!!