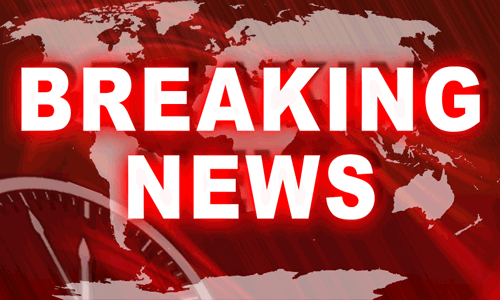 FEBRUARY 24:  GERMAN HORROR – "THE HEAD" – THIS WEEK WITH ARACHNA AND DEADLY ON BEWARE THEATER!!!  Check out the News tab's top story for more details!
FEBRUARY 22:  STRIKING BACK AT THE BLACK WIDOW – TODAY ON DON'S BREAKFAST SERIAL!!!  Check out the News tab's top story for more details!
#  #  #

FRIDAY, FEBRUARY 26, 2021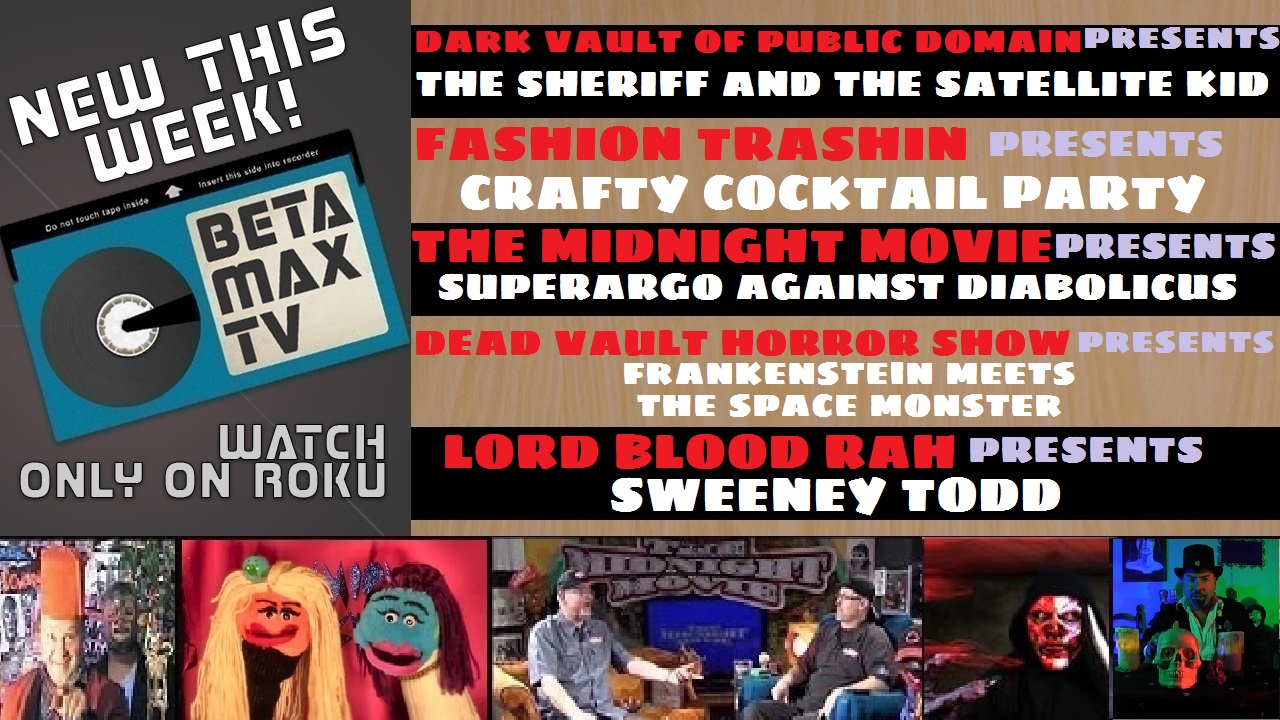 GOOD GUYS, BAD GUYS, AND BOOZE ON THIS WEEK'S FRIDAY FUN-TIME FIVE!!!
We've got heroes and villains galore – and some fancy cocktails – in this week's
FRIDAY FUN-TIME FIVE
on
Beta Max TV!
Uncle Pete and El Vato have a lawman hero and some alien hunting villains in the 1979 film THE SHERIFF AND THE SATELLITE KID on The Dark Vault Of Public Domain. When a young humanoid alien gets stranded on earth, a grizzled old sheriff in a southern town tries to help him while being pursued by alien hunting government men. Bud Spencer, Cary Guffey
Take a break for booze with Beaucoup Askew's Fashion Trashin episode CRAFTY COCKTAIL PARTY. Cinnamon and Diamond have guest mixologist Robwell Wobbles show them some of his specialty cocktails and assorted boozes.
Ritch and Triv bring the Mexican wrestling horror stuff to The Midnight Movie this week with SUPERARGO AGAINST DIABOLICUS (1966). Super hero Superargo battles super villain Diabolicus and his plan to wreck the world economy by turning uranium into gold.
It's an unlikely electronic hero and Red Planet villains for the The Dead Vault Horror Show presentation of FRANKENSTEIN MEETS THE SPACE MONSTER The Keymaster exhumes this 1965 sci-fi gem about Martians invading to take Earth women back to Mars and the NASA space android gone berserk that battles them.
And there's not much in the way of heroes in Lord Blood-Rah's Nerve Wrackin' Theatre this week. It's tag-team bad guys in SWEENEY TODD (1936). It's the story of the Demon Barber Of Fleet Street who murders his customers for their riches and has his baker friend dispose of the bodies in a grisly way.
There's action, fun, and drinking for all out heroes and villains this week in the FRIDAY FUN-TIME FIVE on your home for B-movies…and pies with funny ingredients! Beta Max TV!!!
FRIDAY, FEBRUARY 19, 2021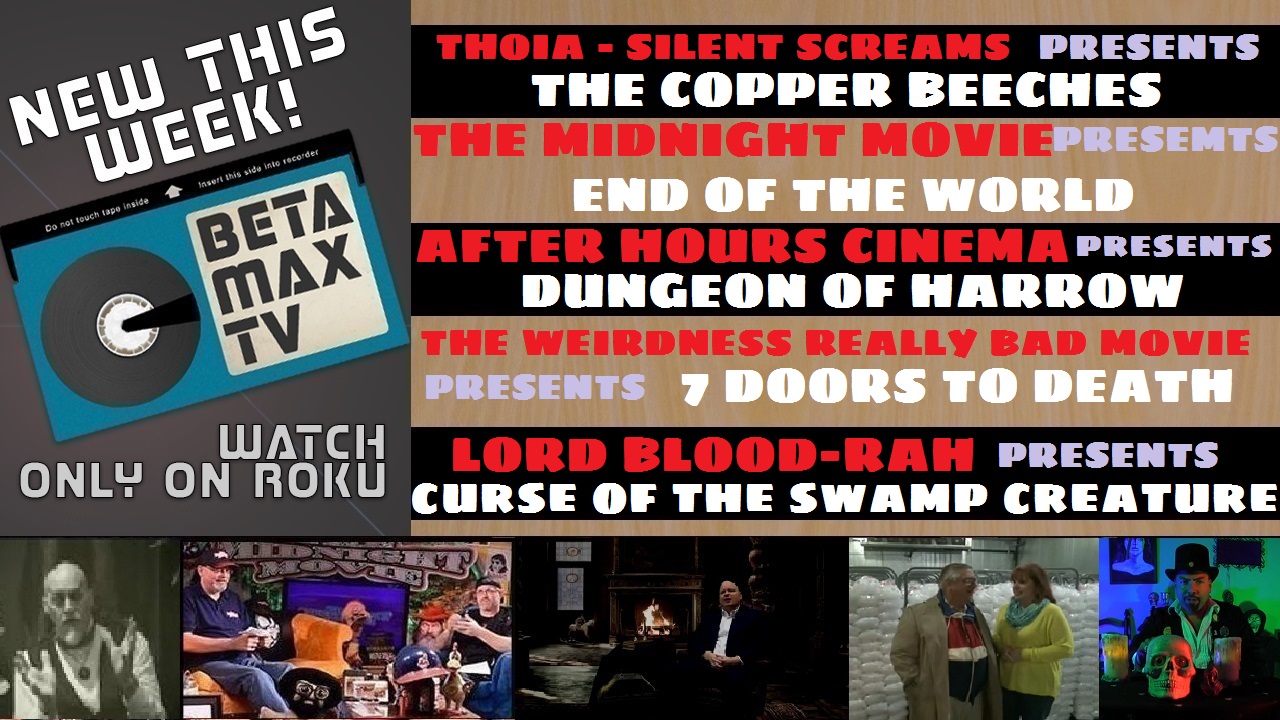 MYSTERIES AND MONSTERS – THIS WEEK IN THE FRIDAY FUN-TIME FIVE!!!
We ask "Who Done It" and "What Is It" with mystery and monster features in this week's FRIDAY FUN-TIME FIVE on Beta Max TV!
Marquis DeBlood has the king of sleuths, Sherlock Holmes, once again this week in The Horror Of It All's Silent Screams. In the second of two films overseen by Sir Arthur Conan Doyle, THE COPPER BEECHES (1912), a treacherous father locks away his daughter and substitutes another for her to claim a rich inheritance and Holmes must uncover the plot.
An evil double also fits in to the plot of END OF THE WORLD, this week's feature on The Midnight Movie. Triv and Ritch have Christopher Lee as a priest who, after witnessing a bizarre death, uncovers an alien plot involving a duplicate of the priest with devastating powers!
Bizarre aptly describes the goings-on in the spooky manor in DUNGEON OF HARROW, the feature on After Hours Cinema. Lee hosts this 1962 Gothic horror film about two shipwrecked men who find themselves at the mercy of a sadistic count and his insane family when they wash ashore on his island.
Doors, doors, and more doors are the theme for Dave and Kathleen with SEVEN DOORS TO DEATH, the feature on The WeiRdNeSs Really Bad Movie. In this this 1944 mystery, 2 people find a body, get the police, and return to find a different body leading them to seven mysterious doors, extra bodies and a cast of odd characters.
And there are odd characters – and odd things – in CURSE OF THE SWAMP CREATURE (1968) on Lord Blood-Rah's Nerve Wrackin' Theatre. Oil surveyors in rural Texas swamps stumble on a mad doctor conducting a bizarre evolution study and fall victim to his experiments and the creature he creates.
Mysteries, monsters, creatures, and crime – it's all here in this week's FRIDAY FUN-TIME FIVE on your home for B-movies…and mysterious monsters! Beta Max TV!!!