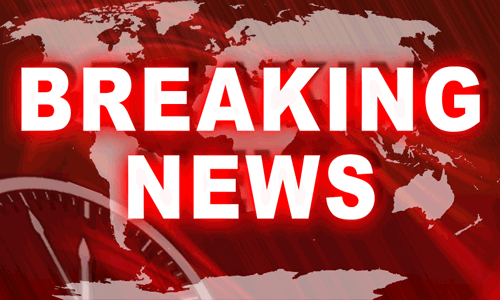 APRIL 14:  SCIENTIST'S SERUM CREATES KILLER CREEP – THIS WEEK ON THE DUNGEON OF DR. DRECK!!!  Check out the News tab's top story for more details!
APRIL 12:  ACTION FROM THE ROCKET MAN, COMEDY FROM STERLING HOLLOWAY – THIS WEEK ON DON'S BREAKFAST SERIAL!!!  Check out the News tab's top story for more details!
#  #  #

FRIDAY, APRIL 16, 2021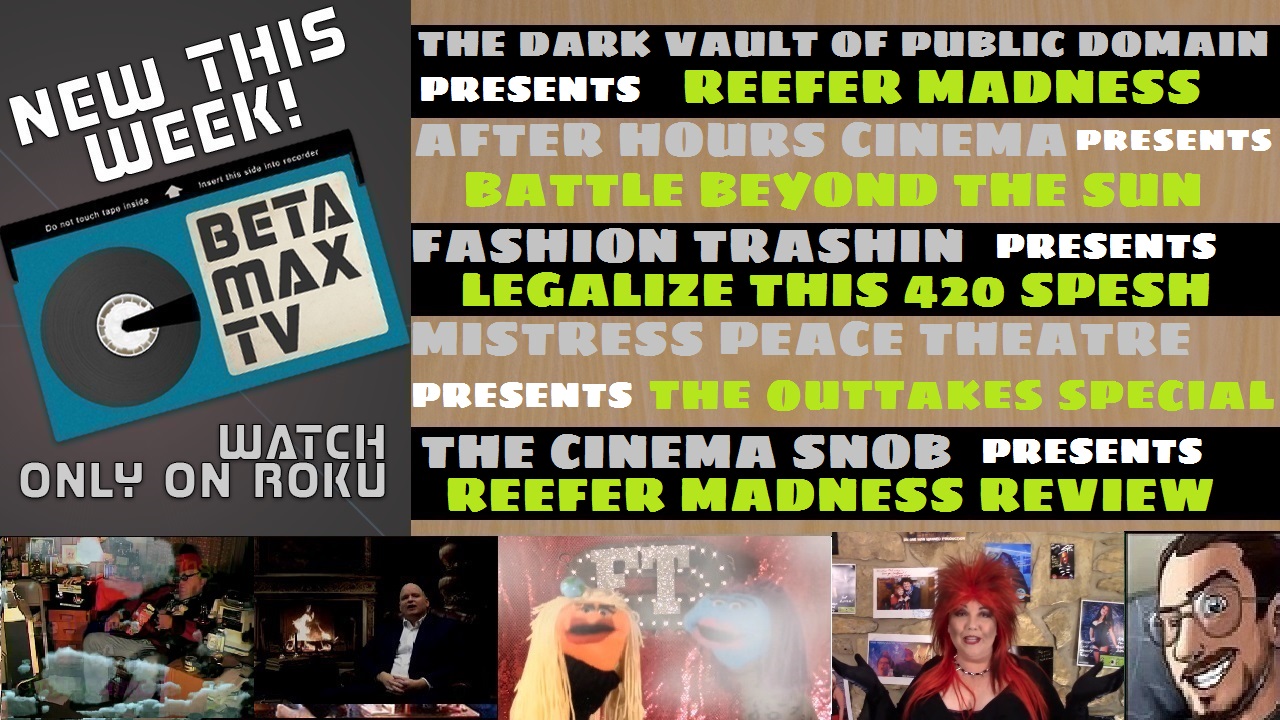 THERE'S SOMETHING IN THE AIR FOR THIS WEEK'S FRIDAY FUN-TIME FIVE!!!
With April 20th (aka 4-20) right around the corner, we here at Beta Max TV decided to go with the flow (or perhaps that should be go with the smoke) for the theme of this week's FRIDAY FUN -TIME FIVE!
El Vato's burning some "incense" and Uncle Pete's feeling fine as The Dark Vault Of Public Domain presents that scare film from 1936, REEFER MADNESS.  Drug dealers lead innocent teenagers to become addicted to 'reefer' cigarettes with wild parties and jazz music resulting in dire consequences. Uncle Pete and El Vato join in the fun!
We're not sure what  Roger Corman was smoking when he asked junior director Francis Ford Coppola to "Americanize" this Soviet made sci-fi movie, but we're guessing it was something and BATTLE BEYOND THE SUN (1962) is the result.  Join Lee Turner on After Hours Cinema for this re-edited Russian space drama about the race to put the first rocket on Mars (with extra footage for the American version).
Green makes the scene on this week's Beaucoup Askew's Fashion Trashin!  In the LEGALIZE THIS 420 SPESH, With the news that the green stuff is now legal in all 15 of the Separated Provinces, Cinnamon and Diamond head out to find the best places for everything pot and pot related. Plus there's the Party Bulb song "Wizard Bong Smoke".
There's always something green somewhere close by on Mistress Peace Theatre.  And this week there's also a big bag full of bloopers, boners, and mistakes for the MISTRESS PEACE THEATRE OUTTAKES SPECIAL! Mistress Malicious and her cast present some of the best outtakes from season 2 of Mistress Peace Theatre.(mature language). Plus, the 3 Stooges in Sing A Song Of Six Pants. Hosted by Glen Lentz.
And The Cinema Snob gets in the herbal mood with a terrifying story that could happen to your children, or YOURS, as he presents a review of that 1936 classic cult film REEFER MADNESS about the evils of marijuana.
You might want to crack a window as this week's FRIDAY FUN-TIME FIVE lights up the screen on your home for B-movies…and smokin' shows!  Beta Max TV!!!
FRIDAY, APRIL 9, 2021
TITANIC BEASTIES, A BODY OR TWO, AND A SECRET AGENT WHO LOOKS LIKE HE'S REALLY FAR AWAY – IT'S THE FRIDAY FUN-TIME FIVE!!!
Murders, international intrigue, and big feet stomping all over the place get things going on this week's Beta Max TV FRIDAY FUN-TIME FIVE!
Uncle Pete channels his inner double-naught spy for the action-packed spy spoof THE IMPOSSIBLE KID on The Dark Vault Of Public Domain! The world shortest secret agent, Weng Weng, is on the trail of a super-villain who is holding the biggest businessmen in the Philippines for ransom.
Frankie and Annette never had problems like the one's the beach-goers have in THE BEACH GIRL AND THE MONSTER on Lord Blood-Rah's Nerve Wrackin' Theatre. People are turning up dead on the beach and the likely suspect is a giant mutated carnivorous South American fish.
Triv and Ritch go made-for-TV with NIGHT TERROR on The Midnight Movie. Valerie Harper stars as a housewife stalked on the highway by a psycho she's seen murder a highway patrolman. (1977)
Oliver "the Caretaker" Collins has Bela Lugosi and Jack Haley in the Spine Chilling Cinema presentation of ONE BODY TOO MANY. In this 1944 horror comedy, an insurance salesman finds his rich customer already dead in a creepy mansion and gets tangled up in mystery and murder.
And since the new version just hit theaters, let's take a look at the original KING KONG VS, GODZILLA on The Cinema Snob.  The Snob reviews the 1963 movie – the third in the original Godzilla series and the first battle between these two titans.
From the smallest spy to the biggest monsters, we've got it this week in the FRIDAY FUN-TIME FIVE on your home for B-movies…and all sizes!!!  Beta Max TV!!!
FRIDAY, APRIL 2, 2021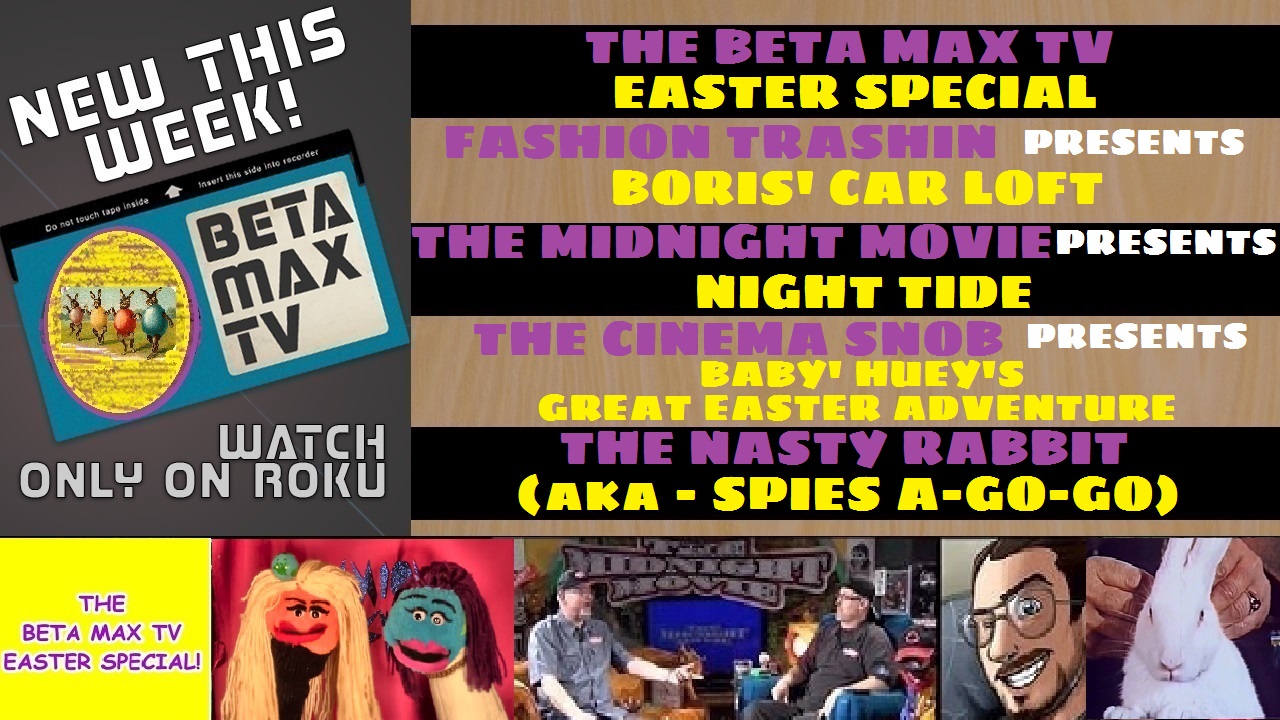 THE BUNNIES ARE A'HOPPIN' FOR THE EASTER EDITION OF THE FRIDAY FUN-TIME FIVE!!!
Let's go to the hop – the bunny hop, that is – on this week's Beta Max TV Easter FRIDAY FUN-TIME FIVE!!!
First, it's bunnies and bonnets galore in THE BETA MAX TV EASTER SPECIAL! Fill your basket with four Easter treats including a promo for The Easter Bunny Is Comin' To Town, Super Chicken – The Easter Bunny, Bugs Bunny in The Wabbit Who Came To Supper, and an Easter episode of The Jack Benny Program.
Next, the bunny bounces to Beaucoup Askew's Fashion Trashin for BORIS' CAR LOFT. Cinnamon's car dies so the girls hop out to find a replacement. Then, in Visions Of The Future, we learn that Bunny Chic is the next big thing!
All that hoppin' wearing you out? How about a nice relaxing swim with a mermaid? Join Triv and Ritch and the gang on The Midnight Movie for NIGHT TIDE. This 1961 film was Dennis Hopper's first starring role. He plays a sailor who falls in love with a woman who may be a mermaid who lures sailors to their death.
It's back to bunnies and a duck – a BIG duck – as The Cinema Snob reviews BABY HUEY'S GREAT EASTER ADVENTURE! This 1998 live-action direct-to-video film was directed by Stephen Furst and is based on the Harvey Entertainment Company animated character Baby Huey.
And finally, I spy a spy named Bunny, James Bunny! OK, maybe that's not really his name but there is a bunny and there are spies involved in THE NASTY RABBIT (aka – Spies a-Go-Go). This 1964 comedy spy spoof was produced by Arch Hall Sr. and features him in the cast as well. It's about a rabbit specially infected with a virus and a Soviet plot to turn it loose on the American population. Also starring Arch Hall Jr.
It's an eggs-cellent line up of fun and adventure for the Easter FRIDAY FUN-TIME FIVE on your home for B-movies…where this week B stands for Bunny! Beta Max TV!!!