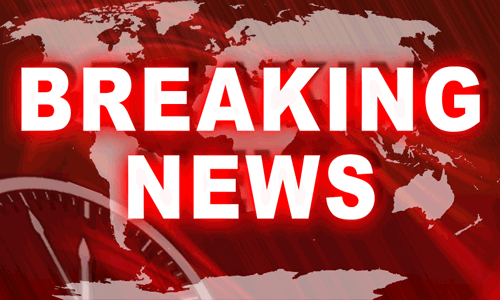 SEPTEMBER 23:  SEEING COLORS (THAT SHOULDN'T BE THERE)
You might have noticed that a few of the recently added shows don't have a nice pretty picture from the show displayed on
Beta Max TV
like most of the shows do. Instead, there's a bunch of color bars. This isn't intentional. Those test patterns should all be thumbnail pictures. Why is this happening? No one seems to know at the moment but all the proper connected tech support people have been alerted and are hard at work to solve this issue as soon as possible. Whatever is happening, at least the shows appear to all be playing properly. Hopefully this will be corrected soon.
SEPTEMBER 22:  A WEREWOLF, REFORM SCHOOL GIRLS AND DEADLY – ARACHNA'S GOT IT ALL IN THIS WEEK'S BEWARE THEATER!!!  Check out the News tab's top story for more details!
SEPTEMBER 20:  AN ACTION HERO, A LION TAMER, AND COMEDY LEGENDS ON DON'S BREAKFAST SERIAL!!!  Check out the News tab's top story for more details!
#  #  #

FRIDAY, SEPTEMBER 10, 2021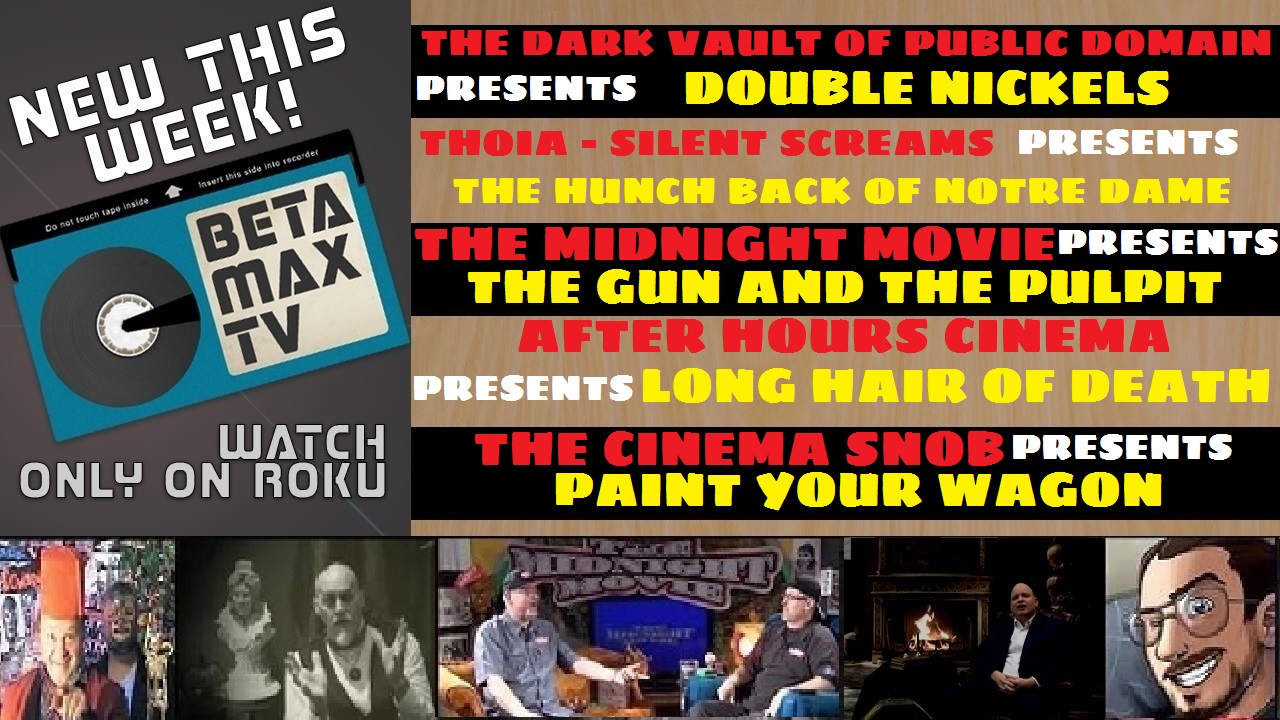 WESTERNS, 15TH CENTURY HORROR, AND CAR CRASHES – THIS WEEK ON THE FRIDAY FUN-TIME FIVE!!!
This week, the Beta Max TV FRIDAY FUN-TIME FIVE takes a look at western action – musical and otherwise, nasty times in the 15th century, and cars goin' wild in California!
Uncle Pete has car racin', car stealin', and lots of car crashin' in The Dark Vault Of Public Domain presentation of DOUBLE NICKELS.  Two California Highway Patrolmen moonlight as repo men to make a little extra cash but they soon find out the cars they're repossessing are actually stolen!
The Marquis DeBlood takes us through the 1923 version of the classic Victor Hugo novel on The Horror Of It All – Silent Screams presentation of THE HUNCHBACK OF NOTRE DAME, the tale of a disfigured bell ringer who falls in love with a beautiful gypsy girl amidst the turmoil of 15th century Paris.  Starring Lon Chaney.
Saddle up for The Midnight Movie as the gang presents THE GUN AND THE PULPIT.  In this 1974 made-for-TV movie, Marjoe Gortner stars as a gunslinger who poses as a preacher to help a town rid itself of a gang of villains.
Lee Turner turns the After Hours Cinema controls over to Malvolia, The Queen Of Screams for a special Gothic Horrors presentation of THE LONG HAIR OF DEATH. In this 1964 Italian-made movie starring Barbara Steele,a witch is burned alive in the 15th century. After a plague, a mysterious woman resembling her returns to avenge her death.
And it's music and horses on The Cinema Snob.  The Snob reviews PAINT YOUR WAGON, the 1969 Lee Marvin, Clint Eastwood western musical.
Ride the range to Paris but watch out for cars – this week in the FRIDAY FUN-TIME FIVE on your home for B-movies… and Marjoe Gortner!  Beta Max TV!!!
(P.S. – we are still experiencing technical difficulties with the servers involved in Beta Max TV. The thumbnails will unfortunately be color bars until a solution is created but the shows will still play fine.)
FRIDAY, SEPTEMBER 17, 2021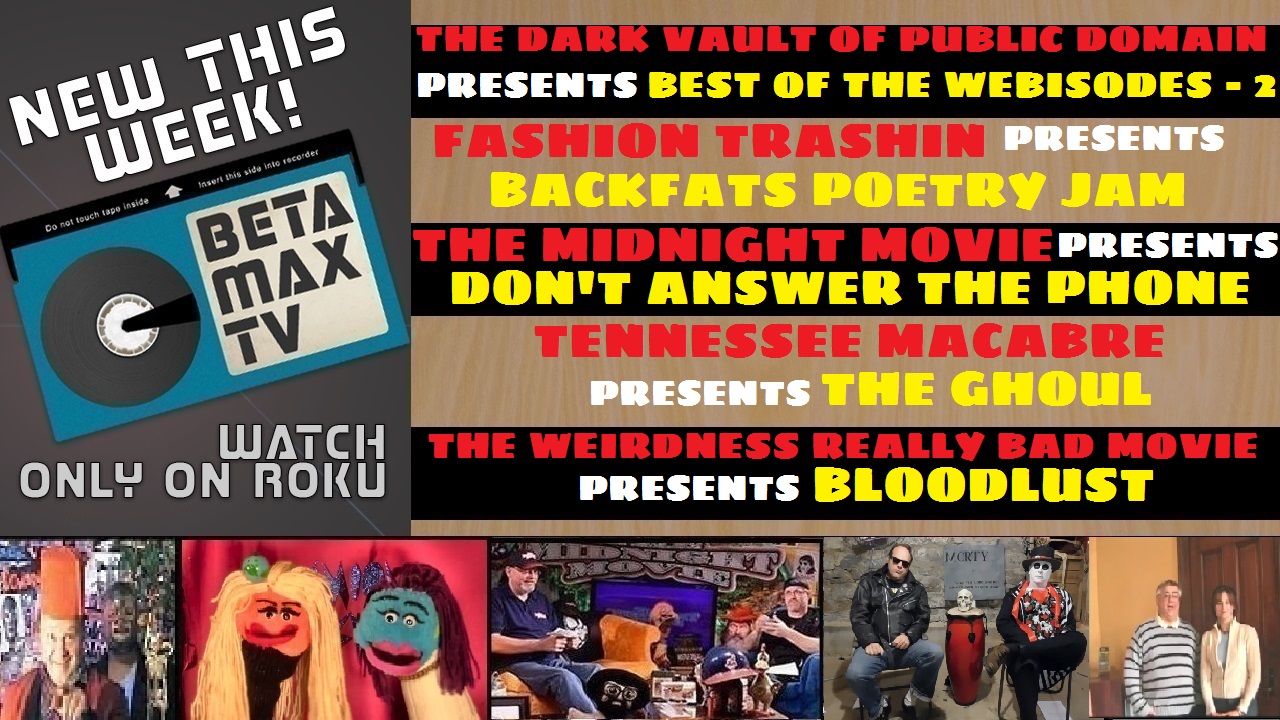 VARIETY, POETRY, GHOULS, AND A DJ ON THIS WEEK'S BETA MAX TV FRIDAY FUN-TIME FIVE!!!
We've got assorted stuff, a rhyme (almost) or two, a couple of ghoul-types, and a disc jockey (ok, make that three ghouls) all packed in to the latest Beta Max TV FRIDAY FUN-TIME FIVE!
Uncle Pete and El Vato conjure up a potpourri of programs in The Dark Vault Of Public Domain presentation of THE BEST OF THE WEBISODES – 2.  It's a collection of shorts, music, trailers, and shows including an episode of the Flash Gordon TV show and a message from the Women's Christian Temperance Union!
It's a festival of free-form (or maybe that's free-range) verse in this week's Beaucoup Askew Fashion Trashin episode BACKFATS POETRY JAM.  Cinnamon and Diamond host Backfats Poetry Jam and Dang Old Damn Clambake for an interesting offering of off-beat literary-ness!
If a murderer answers, hang up!  Better yet DON'T ANSWER THE PHONE! And that's the name of this week's feature from the gang at The Midnight Movie.  It's a 1980 suspenseful thriller about a psychopathic killer who likes to call a radio psychologist and describe his crimes while staying just ahead of the police.
Don't rob the dead, they might not like it.  Like in the Tennessee Macabre presentation of THE GHOUL. Boris Karloff stars as a maniacal archaeologist dying of a strange disease who acquires an ancient jewel with powers of reincarnation. He instructs his assistant to bury him with the jewel so he can return but when the jewel is stolen from his grave, he returns to seek revenge! (1933)
And Dave and Holly head off to the boneyard for BLOODLUST on The Weirdness Really Bad Movie.  From Glendale Cemetery, the oldest cemetery in Akron, they present this 1961 thriller about a crazed hunter who kidnaps people then releases them on his estate where he hunts them as big game.
Hunt up some poems and jewels and let the phone ring for the FRIDAY FUN-TIME FIVE on your home for B-movies… and a whole bunch of potpourri!  Beta Max TV!!!