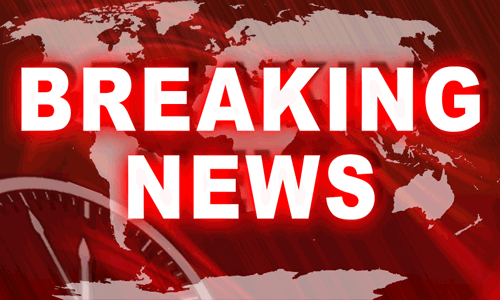 DECEMBER 1:  CHRISTMAS TREE SHOPPING WITH OZZIE AND HARRIET – TODAY ON BETA MAX TV!!!  Check out the News tab's top story for more details!

DECEMBER 1:  A CHRISTMAS MIRACLE – NEW SHOWS ON DAYS OTHER THAN MONDAYS!!!
We here at Beta Max TV – and seemingly Roku tech Support too – have no idea what changed, but it appears we can once again add new shows to our channel on a day other than Monday!!!  YAY!!!  The color bars are still appearing rather than the proper thumbnail pictures on our home and show pages but at least we can add stuff all over the place again – and just in time for the plethora of Christmas and holiday shows we have waiting to be shared!
As always, we're committed to bring you new, fun, and scary films every week.  And despite the continuing thumbnail issue (that is outside our control) we will continue to do so and once again on a whole bunch of different days!  Details for the SURPRISE SEVEN and/or FRIDAY FUN-TIME FIVE will remain on the lower part of this page.  And of course, all of the other new and previous show previews are still available on our website in the News tab!
Thanks for watching and supporting Beta max TV!!!
NOVEMBER 29:  FROM ONE HOLIDAY TO ANOTHER – THIS WEEK ON THE MONDAY SURPRISE SEVEN!!! (SCROLL DOWN FOR DETAILS!)

#  #  #

MONDAY, NOVEMBER 29, 2021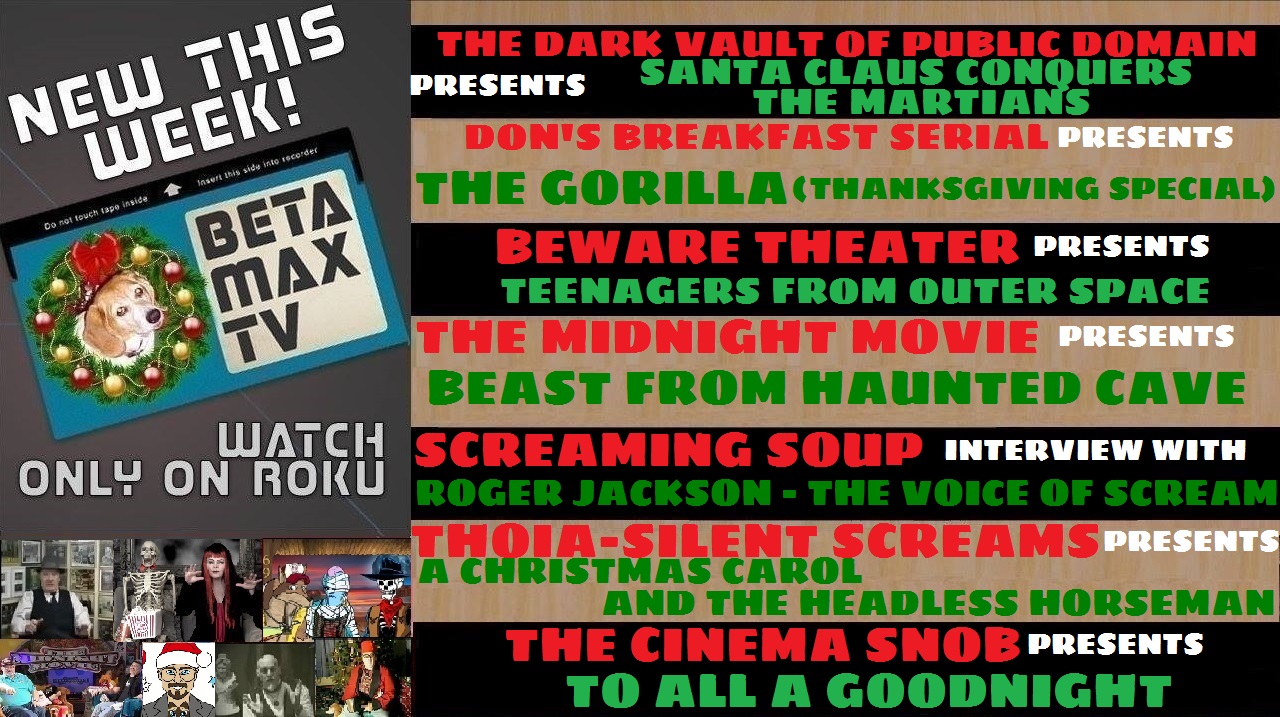 A THANKSGIVING LEFTOVER AND A CHRISTMAS KICK-OFF ON THIS WEEK'S MONDAY SURPRISE SEVEN!!!
There's a little bit of turkey, a special chat, and the start of the Christmas features in this week's Beta Max TV MONDAY SURPRISE SEVEN!!!
Don's Breakfast Serial has a bit more Turkey Day fun for us with his presentation of THE GORILLA in his Thanksgiving Special.  Don's in a Thanksgiving mood for this 1939 Ritz Brothers comedy that finds the boys working as investigators for a man threatened by a killer called The Gorilla. Plus some Three Stooges shorts!
Ever have some guests drop in unexpectedly?  That's what Arachna of the Spider People and Deadly have in TEENAGERS FROM OUTER SPACE (1959) on Beware Theater.  A spaceship lands and aliens try to make earth a farm for their carnivorous food supply. Car chases, Disintegrator Ray Guns, Giant Monsters – What's not to like? It's so bad it's good!
Uncle Pete and the Clones decorate and celebrate as they prepare for Christmas in The Dark Vault Of Public Domain presentation of SANTA CLAUS CONQUERS THE MARTIANS.  After being kidnapped by the Martians, Santa must figure out how to get back to Earth in time for Christmas while teaching the Martians a thing or two.  Uncle Pete and the clones exchange gifts while decorating the Dark Vault Boiler Room and showing some Christmas shorts.
On The Midnight Movie, Triv, Ritch and the gang get festive with BEAST FROM HAUNTED CAVE, a 1959 wintery Monty Hellman film about bank robbers on the run who encounter a strange and deadly creature in a cave at a ski resort.
As a special treat, Screaming Soup presents An Interview with voice actor Roger Jackson.  Deadwest chats with the man who provided the voice of Ghostface in Scream, Mojo Jojo in Powerpuff Girls and numerous other movie, commercial, and video game characters.
The Marquis DeBlood brings forth a sprig or two of horror holly with A CHRISTMAS CAROL and THE HEADLESS HORSEMAN on The Horror Of It All's Silent Screams.  The Marquis provides the 1910 and 1922 Thomas Edison versions of these classic tales.
And The Cinema Snob gets Christmas-scary with TO ALL A GOODNIGHT.  The Snob reviews the 1980 slasher Christmas movie about members of an all-girl finishing school being killed by a psychopath in a Santa suit.
Christmas is coming and the programming is getting festive with this week's MONDAY SURPRISE SEVEN on your home for B-movies… and holiday surprised!  Beta Max TV!!!
MONDAY, NOVEMBER 22, 2021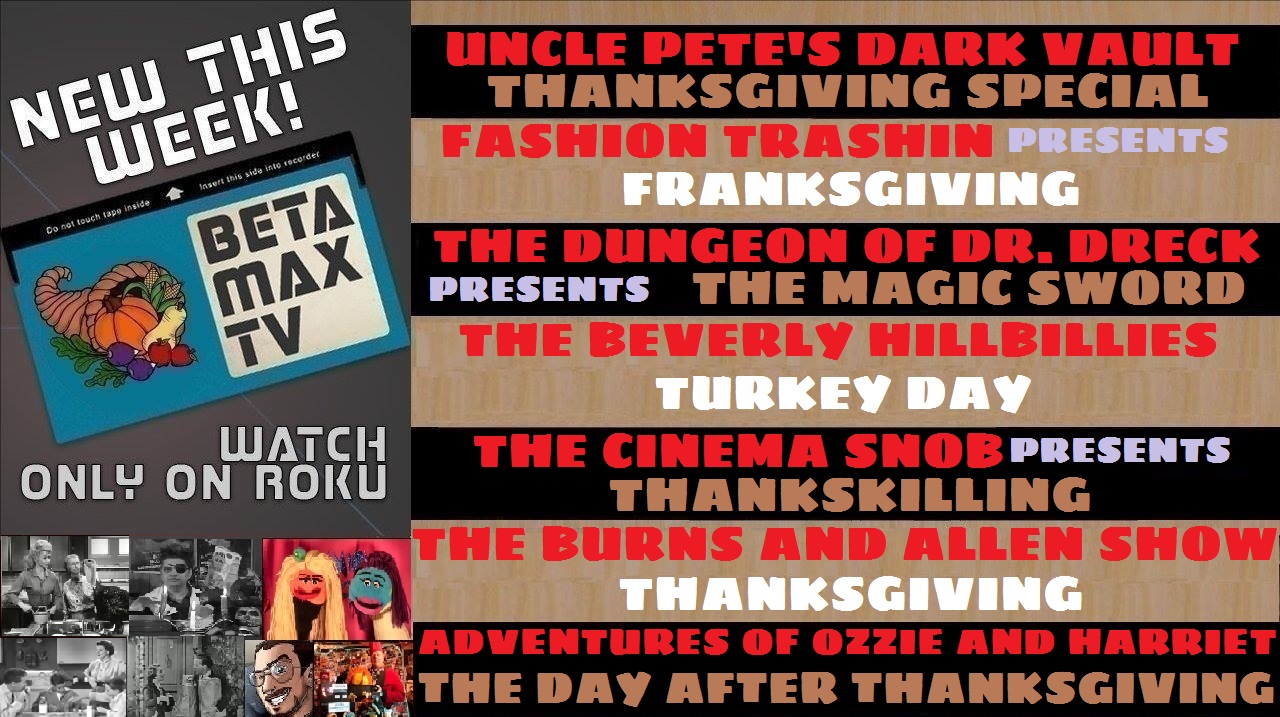 IT'S A SEVEN COURSE FEAST OF THANKSGIVING FUN – THIS WEEK ON THE MONDAY SURPRISE SEVEN!!!

It's like a parade and a great dinner all rolled into one as we fill your Thanksgiving week with a seven course feast of holiday features on this week's Beta Max TV MONDAY SURPRISE SEVEN!
Start the parade and carve the turkey with UNCLE PETE'S DARK VAULT THANKSGIVING SPECIAL.  Uncle Pete hosts a turkey filled special with a Calvin and the Colonel cartoon, tips on carving and The Giant Claw (1957) about a giant destructive bird creature from another dimension.
The dinner continues with Beaucoup Askew's Fashion Trashin's FRANKSGIVING.  Cinnamon and Diamond head to famed panda manicurist Frankfort Van Wank's lavish home in upscale Bontatont for a Thanksgiving dinner including 12 karat carrots and diamond dusted dressing. But things don't work out quite right.
Then, The Dungeon Of Dr. Dreck adds a serving of action and fantasy with THE MAGIC SWORD (1962).  It's Thanksgiving time at the Dungeon! While Dr. Dreck and Stu recover from too many pies, they treat you to a sword and sorcery fantasy about a hero rescuing a princess from a vengeful wizard. Gary Lockwood, Basil Rathbone
It's a side of laughter on The Beverly Hillbillies TURKEY DAY.  The Clampetts prepare for a big Thanksgiving dinner but Elly May decides the turkey would make a better pet than a main course! (1963)
Add a couple spoonfuls of one of those scary casseroles with The Cinema Snob and THANKSKILLING.  It's time for The Snob to talk about what he's thankful for this Thanksgiving, but it probably isn't this 2009 low budget horror film about an evil turkey.
It's a cranberry sauce of craziness on The George Burns And Gracie Allen Show episode THANKSGIVING.  Neighbor Blanche's husband places a bet on a horse with the same name as his business partner's wife and Gracie thinks he's fooling around. Wackiness ensues as they all gather at the Burns' house for Thanksgiving (1951)
Finally, you might want to save this dessert for Friday.  It's The Adventures OF Ozzie And Harriet – THE DAY AFTER THANKSGIVING. The day after Ozzie and the family have Thanksgiving dinner at a relatives, they're convinced they have eaten enough turkey for a good long time. But Ozzie and the boys develop a craving for turkey and start searching for leftovers anywhere they can think of! (1952)
Watch your fill again and again this Thanksgiving week with the MONDAY SURPRISE SEVEN on your home for B-movies,,, and leftovers!  Beta Max TV!!!
MONDAY, NOVEMBER 15, 2021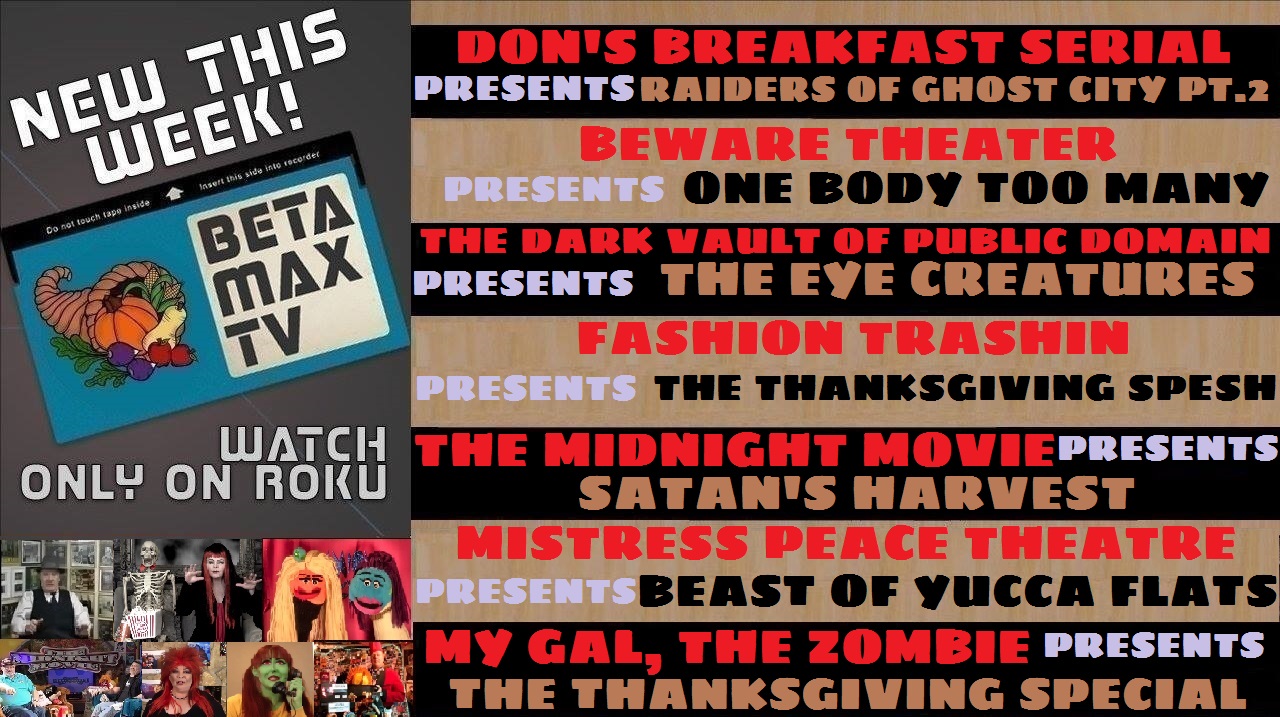 UNEXPECTED GUESTS, UNHAPPY HARVEST, AND MORE THANKSGIVING FUN ON THIS WEEKS MONDAY SURPRISE SEVEN!!!

It's another serving of Thanksgiving snacks and strange, uninvited guests in this week's Beta Max TV MONDAY SURPRISE SEVEN!
Don's Breakfast Serial starts things off with more action on RAIDERS OF GHOST CITY – Pt. 2. Don has the conclusion of this 1944 Universal western action serial about raiders posing as Confederate soldiers stealing gold shipments in California near the end of the Civil War as a Union agent tries to stop them (Dennis Moore, Lionel Atwill)
Set an extra chair at the table when Arachna of the Spider People and her boney buddy Deadly present ONE BODY TOO MANY on Beware Theater.  There's creepy fun with Bela Lugosi as Jack Haley stars as an insurance agent who gets tangled up in the murder of a millionaire he was trying to sell insurance to. Arachna and Deadly stumble onto a strange family in a creepy mansion when they try to do a good deed.
And maybe grab another chair or two for the Thanksgiving table when more unexpected visitors arrive when Uncle Pete presents THE EYE CREATURES on The Dark Vault Of Public Domain.  This 1967 sci-fi features has teenagers discovering an invasion of weird looking aliens while the military doesn't believe it.  Uncle Pete hits the sauce (BBQ sauce, that is) at the Dark Vault transmitter.
Cinnamon and Diamond get all festive about eating in Beaucoup Askew's Fashion Trashin episode THE THANKSGIVING SPESH.  The girls head home for some eating and family time.
It's harvest time for Ritch and Triv – not a happy harvest but SATAN'S HARVEST on The Midnight Movie.  In this 1970 movie starring George Montgomery and Tippi Hedren, an American detective inherits a South African estate where a gang is growing heroin and pot and doesn't want outside interference.
An it's yet another uninvited guest  – and a radioactive one – as Mistress Peace Theatre presents THE BEAST OF YUCCA FLATS.  In this classicly bad B-movie, Tor Johnson stars as a defecting Soviet scientist who gets caught in an atomic blast and turns into, well, a beast!  Mistress and her friends are all coming down with something while Dr. Madd searches for the Beast!
And finally, My Gal, The Zombie is fully involved in the spirit of the holiday with THE THANKSGIVING SPECIAL!  But she's busy with a Zombie Support Group Thanksgiving dinner so instead we have a collection of Thanksgiving themed shorts and cartoons presented by My Gal The Zombie's friend Patricia.
Get festive, get scared, and get happy with the MONDAY SURPRISE SEVEN on your home for B-movies.. and ongoing problems but shows that actually play this week (fingers crossed!)!  Beta Max TV!!!
MONDAY, NOVEMBER 8, 2021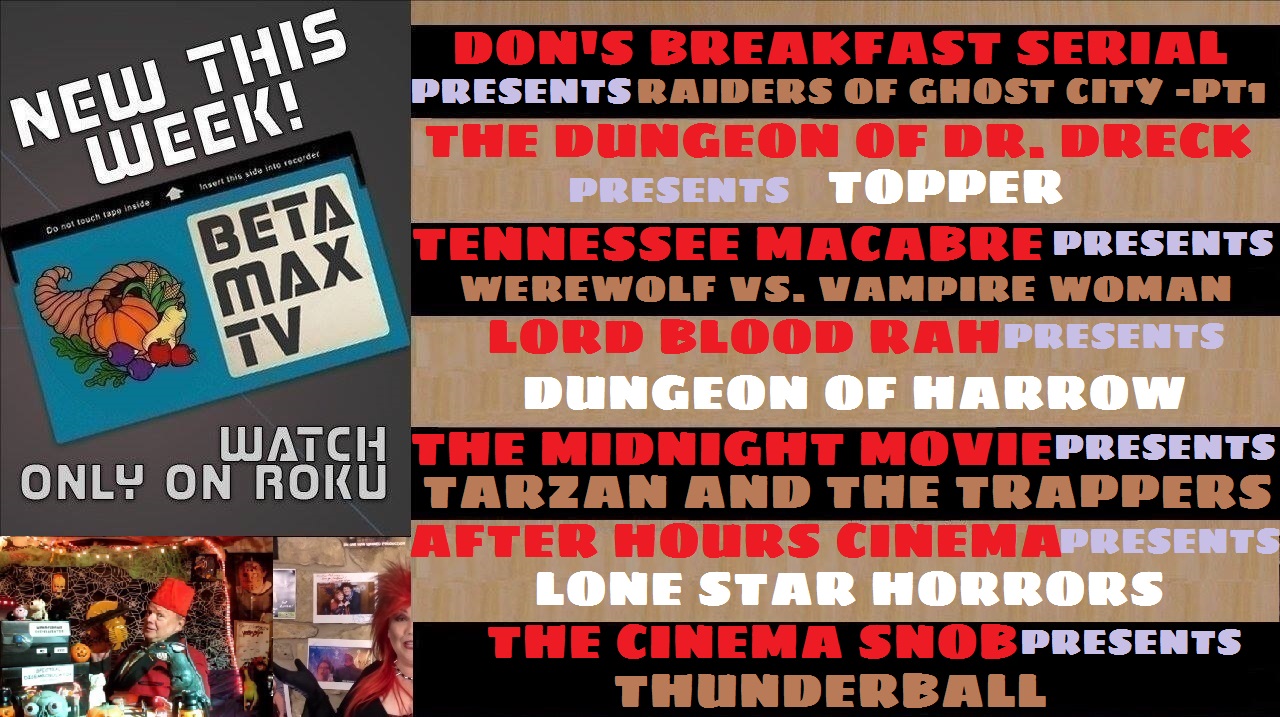 ACTION, HORROR, COMEDY – AND A TOUCH OF TURKEY – ON THIS WEEKS MONDAY SURPRISE SEVEN!!!
From deep in the jungle to deep in the ocean to deep in the dungeon!  We're in it deep this week on the Beta Max TV MONDAY SURPRISE SEVEN!
It's off to the old west on Don's Breakfast Serial with RAIDERS OF GHOST CITY.  Don has the first half of this 1944 Universal western action serial about a gang of raiders trying to steal gold shipments near the end of the Civil War and the Union agent who tries to stop them (Dennis Moore, Lionel Atwill)
It's Thanksgiving month, so let's get our first taste of turkey in The Dungeon Of Dr. Dreck presentation of TOPPER!  Dr. Dreck spends Thanksgiving with Shrunken Ed and Squeeky for this 1937 Cary Grant comedy about a couple who come back as ghosts to shake up the life of their stuffy old friend. With Constance Bennett
It's Mexican monster mayhem on Tennessee Macabre with THE WEREWOLF VS. THE VAMPIRE WOMAN.  Deke, Morty and Grim show the 1971 Mexican film. 2 women, searching for a dead vampire's tomb, accidentally revive the vampire woman who transforms them into vampires then battles a recently revived werewolf. (with Paul Naschy)
Then it's back to the dungeon but this time it's the DUNGEON OF HARROW on Lord Blood-Rah's Nerve Wrackin' Theatre.  Lord Blood Rah presents this 1962 gothic horror film about shipwreck survivors washing up on an island inhabited by a crazed, sadistic count and his unusual collection of servants and animals.
You'll go ape for the man in The Midnight Movie presentation of TARZAN AND THE TRAPPERS.  It's jungle adventure time as Triv and Ritch present sword and sandal muscleman Gordon Scott as the ape man battling poachers who are out to plunder the lost city of Zarbo. (1958)
Lee Turner turns the controls over for a bit as After Hours Cinema presents Lone Star Horrors. Guest host Sheri Davis rakes over After Hours Cinema for CURSE OF THE SWAMP CREATURE about a doctor experimenting with evolution in a Texas swamp and creating bizarre creatures out of unfortunate humans who stumble into the swamp.
And the it's Snob, Cinema Snob. The Cinema Snob presents a review of THUNDERBALL, the fourth James Bond movie (1965) with Sean Connery as 007 trying to recover to missing nuclear warheads.
It's countdown to turkey day with a seven course serving of stuff from the MONDAY SURPRISE SEVEN on your home for B-movies… and 7 film casseroles!  Beta Max TV!!!