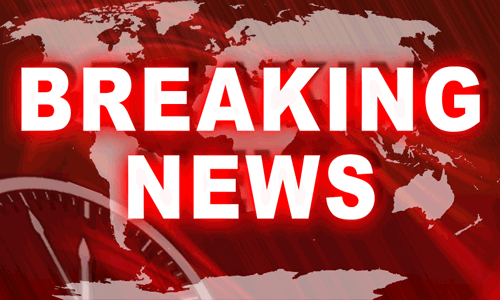 OCTOBER 18:  WE'RE STILL CURSED BUT WE GOT ALL KINDS OF NEW SHOWS!  IT'S THE HALLOWEEN SURPRISE SEVEN!!!  SCROLL DOWN FOR DETAILS!!!
OCTOBER 13:  MORE HAUNTED STUFF AND VINCENT PRICE – TODAY ON BEWARE THEATER!!!  Check out the News tab's top story for more details!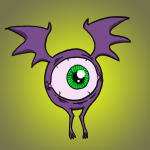 OCTOBER 11:  WE'RE BACK!!!  WE GOT WEDNESDAY AND WE GOT FRIDAY AND WE EVEN GOT DON'S BREAKFAST SERIAL HALLOWEEN SPECIAL – TODAY ON BETA MAX TV!!!  Check out the News tab's top story for more details!
SEPTEMBER 23:  SEEING COLORS (THAT SHOULDN'T BE THERE)
You might have noticed that a few of the recently added shows don't have a nice pretty picture from the show displayed on
Beta Max TV
like most of the shows do. Instead, there's a bunch of color bars. This isn't intentional. Those test patterns should all be thumbnail pictures. Why is this happening? No one seems to know at the moment but all the proper connected tech support people have been alerted and are hard at work to solve this issue as soon as possible. Whatever is happening, at least the shows appear to all be playing properly. Hopefully this will be corrected soon.
#  #  #

TUESDAY, OCTOBER 19, 2021 – THE HALLOWEEN SURPRISE SEVEN!!!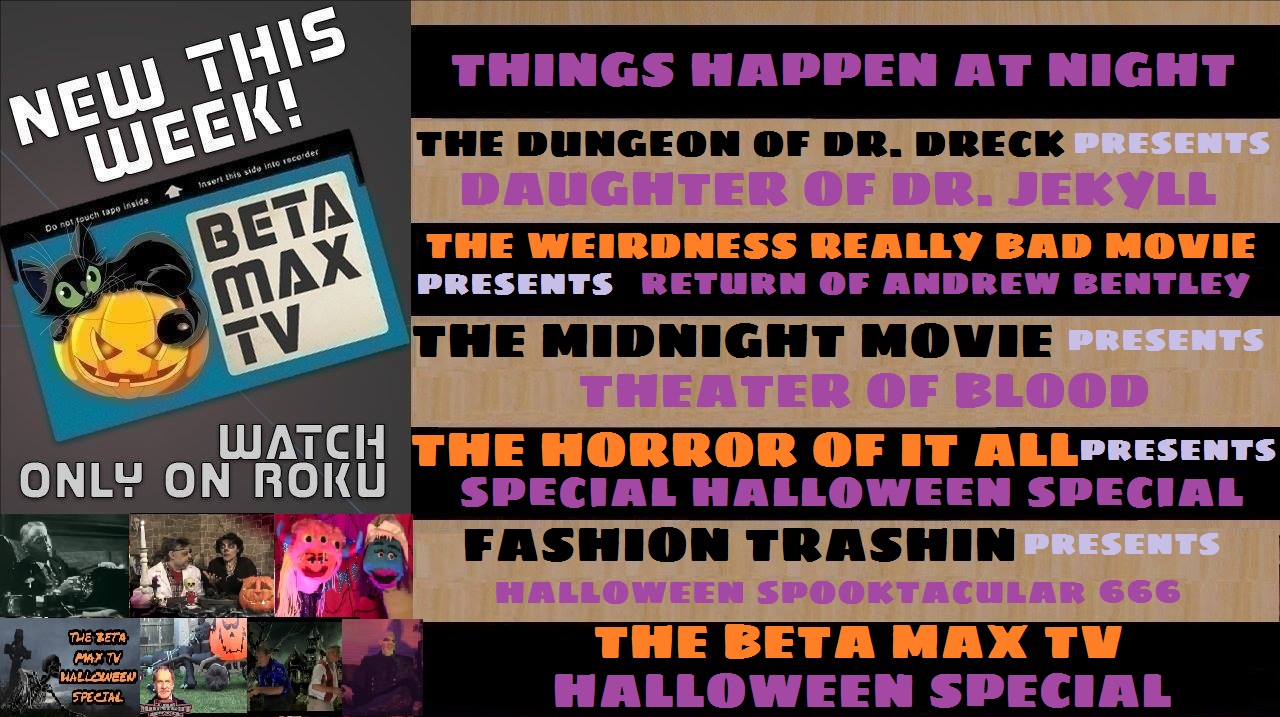 BEATIN' THE CURSE WITH A PILE OF HALLOWEEN SHOWS!!!
It appears that Roku – or some evil forces – have cursed Beta Max TV so that we can only add new shows at some random time somewhere around Monday.  Yeah, it doesn't make sense but that's what we've been able to figure out while Roku is trying to figure out why.  So, rather than wind up showing a bunch of our Spooky Scary Month programming in November, we've created a super-sized feature called the SURPRISE SEVEN!  And here's the first one!
First, it's a British comedy from 1947 called THINGS HAPPEN AT NIGHT.  When a homeowner's house and daughter are possessed by a mischievous poltergeist, he calls in a ghost chaser and his insurance agent on Halloween night to chase the spirit away.
Next, it's Halloween in The Dungeon Of Dr. Dreck!  Dr. Dreck's got a twist on the Robert Louis Stevenson horror tale called THE DAUGHTER OF DR. JEKYLL.  John Agar and Gloria Talbot star in this tale about the daughter of Dr. Jekyll who thinks she may be a split-personality murderess. Moaner gets more of a trick than a treat when she is the unlucky recipient of an instant beard,courtesy of Uncle Mess.
Then it's a star studded parade of Beta Max TV hosts on THE BETA MAX TV HALLOWEEN SPECIAL.  Some of our horror hosts extend their spookiest salutations amidst a treat bag full of Halloween-themes trailers, cartoons, and other bits of fun!
Beaucoup Askew's Fashion Trashin presents its biggest Halloween special yet with the HALLOWEEN SPOOKTACULAR 666. Cinnamon and Diamond take a jaunt to their favorite haunt – Backfats – to celebrate Halloween!  Special guests include members of L7, Babes In Toyland, White Zombie, the Lunachicks, and Uncle Pete as a yeti!
The Horror Of It All's Silent Screams presents the SPECIAL HALLOWEEN SPECIAL.  Marquis de Blood celebrates Halloween with a monster movie mini marathon of The Last Rites of Dr. Van Helsing and the short film by Sneaky Ghost Films, Toddler Tar Tar.
It's Vincent Price at his devious best when The Midnight Movie presents THEATER OF BLOOD.  Ritch and Triv add frights to Halloween with Vincent Price as an actor thought dead who seeks revenge on critics, killing them in bizarre ways based on deaths in Shakespearean plays. Also starring Diana Rigg (1973)
And on The Weirdness Really Bad Movie, the creepy continues with some golden age TV on THE RETURN OF ANDREW BENTLEY.  Mike and Dave check out a creepy Halloween festival while showing episodes of 2 scary TV shows – Boris Karloff's Thriller and One Step Beyond!
Last week's shows just showed up and on top of all that, here's another heap of horror!  The brand new SURPRISE SEVEN plus six shows that were trapped in an evil dimension all week for a total of thirteen thrillers on your home for B-movies… and Halloween any way we can get it!  Beta Max TV!!!
FRIDAY, OCTOBER 15, 2021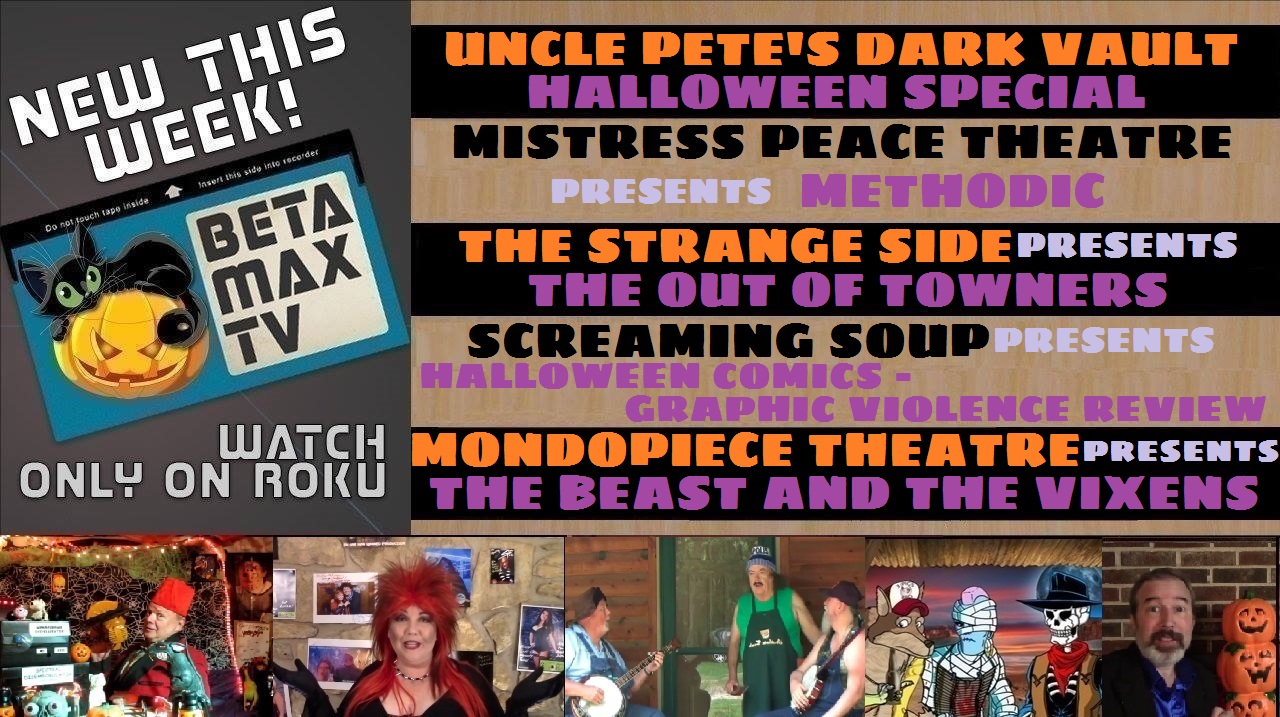 THE MYSTERY OF THE RANDOMLY APPEARING SHOWS CONTINUES WITH HALLOWEEN SPECIALS AND INDIE FILMS ON THIS WEEK'S FRIDAY(?) FUN-TIME FIVE!!!
It's still Spooky Scary Month so anything's possible – especially when Roku causes things to go weird without explanation!  It now appears that new shows might only be appearing on Beta Max TV on Mondays, but no one knows why (yet).  Anyway, we're gonna keep adding Halloween shows all month confident that, sooner or later, they will magically appear!  With that said, we've got some Halloween Specials and 2 indie horror films ready to provide some fun and frights on this week's Beta Max TV FRIDAY FUN-TIME FIVE!!!
Join Uncle Pete for UNCLE PETE'S DARK VAULT HALLOWEEN SPECIAL!!!  Uncle Pete, Stone Dog and Max the Rat are working on their costumes and getting ready for Halloween with DRACULA VS. FRANKENSTEIN (1970) about aliens reviving dead monsters to conquer Earth. Plus Betty Boop's Halloween, Flip the Frog with some ghosts & a Halloween short (1953).
It's Halloween on Mistress Peace Theatre and Mistress Malicious has problems with trick or treaters (and eggs) when her friend Grimly eats all the candy while she shows the 2007 indie horror film METHODIC, filmed in a haunted hospital by Chris R. Notarile.
Then it's THE STRANGE SIDE with a brand new film from Kelly James Barker, the creator of the Chronicles Of Dark Wolf Manor series.  THE OUT OF TOWNERS is an independent short film about some hillbillies from space who come hunting on earth for food, Human food!  It's a comedy with a touch of murder and horror! (2021)
Screaming Soup has a brand new bit of animated action for the horror-day!  On HALLOWEEN COMICS – GRAPHIC VIOLENCE REVIEW, the Screaming Soup gang goes all Halloween for Halloween with a review of every Halloween comic starring Michael Myers to date (and their connection to the movies)!
And Mondopiece Theatre continues their Halloween bash with a review, a beast and scantily clad women – a Mondopiece Theatre tradition!  THE BEAST AND THE VIXENS is a 1974 gem about a Bigfoot-type creature that terrorizes a group of women at a nudist colony.
Indie films, Halloween hi-jinx, and beasts aplenty.  Now we just have to wait for it to pop up like a ghost from the grave!  It's another Spooky Scary Month FRIDAY FUN-TIME FIVE on your home for B-movies…and surprise schedules!  Beta Max TV!!!