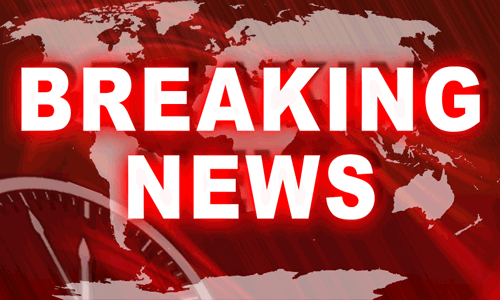 JANUARY 18:  DEADWOOD DICK – THE CLIFFHANGER CONCLUSION – TODAY ON DON'S BREAKFAST SERIAL!!!  Check out the News tab's top story for more details!
JANUARY 13:  ATOMIC VAMPIRES ON THE LOOSE – TODAY ON BEWARE THEATER!!!  Check out the News tab's top story for more details!
#  #  #

FRIDAY, JANUARY 15, 2020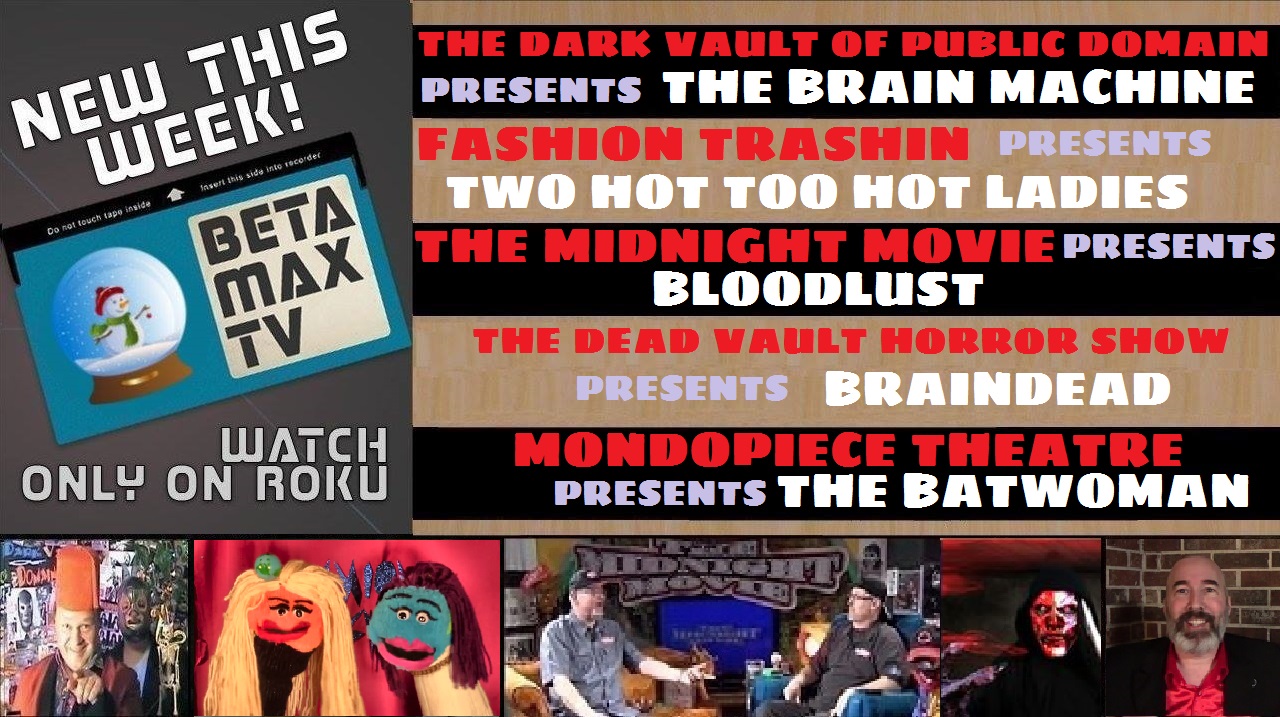 BRAINS, BLOOD, THE BOOB TUBE AND A BAT – ON THIS WEEK'S FRIDAY FUN-TIME FIVE!!!
Secret brain experiments, TV watching, bloodlust, zombies and masked wrestlers make up the groovy goulash for this week's FRIDAY FUN-TIME FIVE on Beta Max TV!!!
Brain experiments gone awry are the theme on and off screen for The Dark Vault Of Public Domain presentation of THE BRAIN MACHINE (1977). A group of people is gathered at a secluded research facility for a brain study but the experiments have a secret purpose and soon turn deadly.  Uncle Pete has installed a chip in El Vato's brain but it's not working quite right and the warranty might not cover what happens!
Cinnamon and Diamond are suffering through another Hawlywood heat wave in January in Beaucoup Askew's Fashion Trashin TWO HOT TOO HOT LADIES. So with all the heat, they decide to lay low and see what's on TV.
It's reminiscing and footage of Ghoulardi-fest for Triv and Ritch and the gang on The Midnight Movie. And they also show BLOODLUST (1959) about a crazed big game hunter who traps people on his island to use as his special big game.
Keymaster Slasher Poe exhumes a horror comedy in BRAINDEAD (1992) on The Dead Vault Horror Show. In this New Zealand made film, an explorer brings a rare Sumatran rat monkey from a jungle island to a New Zealand zoo where it bites a woman turning her into a zombie with comedic consequences.
And we head to the squared-circle for the Mondopiece Theatre review of THE BATWOMAN. In this 1968 Mexican wrestling superhero horror film, an evil scientist drains spinal fluid from wrestlers to create a gill man and a masked wrestling crime fighter must find him and stop him!
From the jungles to the ring to the lab, it's brains and blood, a a Batman rip-off, and a little television for the FRIDAY FUN-TIME FIVE on your home for B-movies…and an extra serving of brains!  Beta Max TV!!!
FRIDAY, JANUARY 8, 2020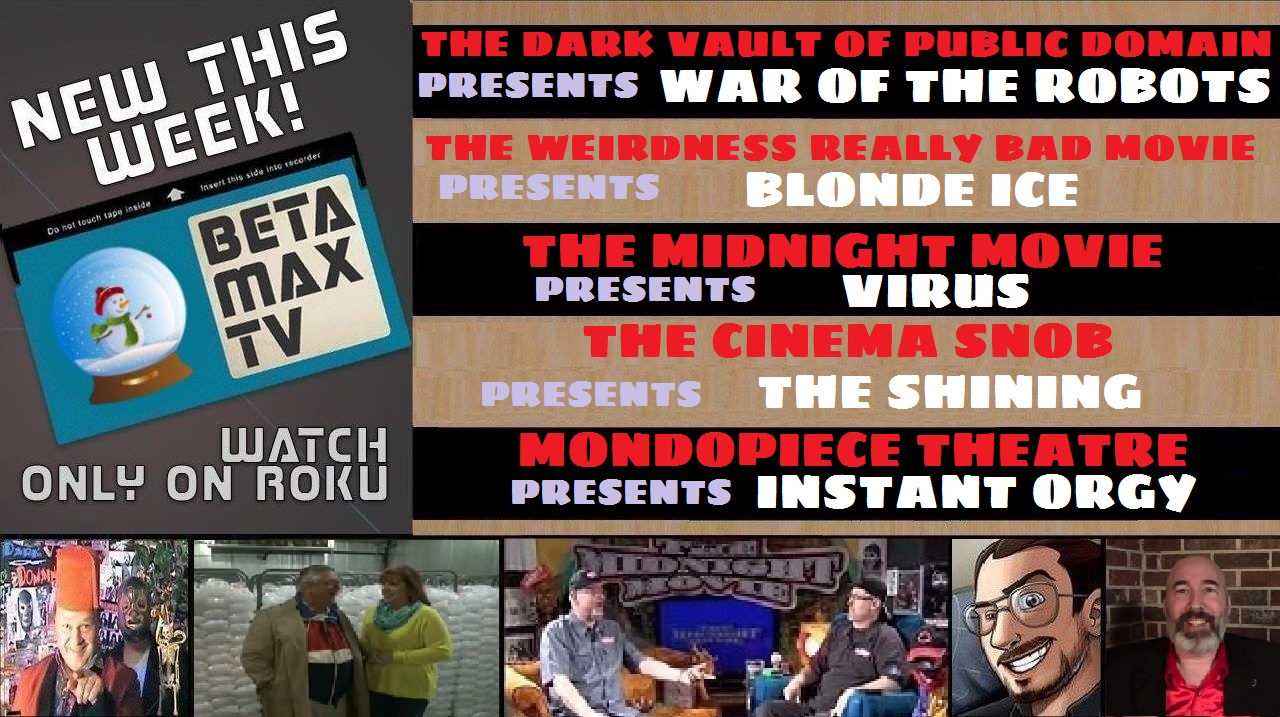 ICE AND SNOW – AND AN ORGY – A WINTERY WONDERLAND FOR THIS WEEK'S FRIDAY FUN-TIME FIVE!!!
From a country inn to the Antarctic and from the penthouse to a cheezy apartment  – there's snow, cold, and fun un the first FRIDAY FUN-TIME FIVE today on Beta Max TV!!!
Uncle Pete's treating El Vato and the clones to a free golf outing as a reward for all the work they did last year.  And being thrifty (spelled c-h-e-a-p), he knows that the lowest rates on the golf course are available at night…in the winter…when the course is covered with snow.  So grab your clubs and snowshoes and join him for The Dark Vault Of Public Domain presentation of WAR OF THE ROBOTS (1978).  An alien civilization facing extinction kidnaps 2 of Earth's top scientists and Earth sends some space troops to battle the aliens and their humanoid robots to try to rescue the professors.
Dave and Kathleen head to the source of the ice – an ice house – on The Weirdness Really Bad Movie.  And to keep things cool, they show the 1948 noir film BLONDE ICE.  A beautiful woman goes through several wealthy husbands, all of whom die under mysterious circumstances.
It's all snow and ice – and a plague – for Triv and Ritch on The Midnight Movie.  The gang has the big-budget, all-star cast 1980 disaster flick VIRUS.  When a powerful virus wipes out most of the worlds population, it falls to a group of scientists stationed in Antarctica to try to save civilization.
Speaking of low rates, mountain resorts are especially cheap in the winter when they're closed – and haunted!  Join The Cinema Snob for a review of the 1980 film adaptation of the Stephen King novel THE SHINING.
And speaking of cheap – how about another Barry Mahon Nudie Cutie!  Catch the review of the 1967 film INSTANT ORGY on Mondopiece Theatre.  A group of women unknowingly drink a potion called Instant Orgy with some interesting results.
It's all cold and snowy (well, except for the orgy) and fun in the brand new FRIDAY FUN-TIME FIVE for a brand new year on your home for B-movies…and ice!  Beta Max TV!!!