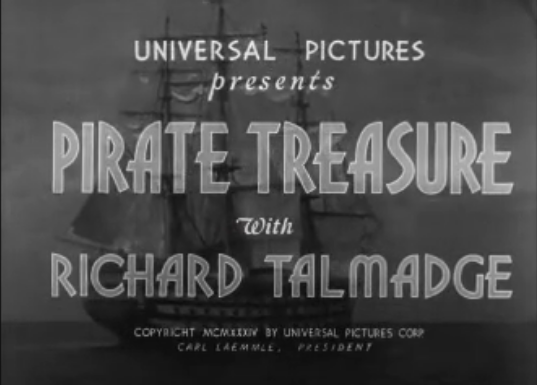 PIRATE TREASURE AND UNCLE CHARLIE'S BIRTHDAY – IT'S A MYSTERY ACTION DOUBLE FEATURE MONDAY ON BETA MAX TV!!!
We've got a brand new cliffhanger with buried treasure and a murder mystery with birthday boy William Demarest for a Mystery Action Double Feature today on Beta Max TV!
Don's Breakfast Serial presents the first 7 chapters of the 1934 swashbuckling action serial PIRATE TREASURE. Adventurer Don Moreland, after discovering an ancient map,  is heading to a Caribbean island to search for treasure hidden by an ancestor but his adversaries try to steal the map and sabotage his plans to get the loot themselves!
Then, Beta Max TV celebrates character actor William Demarest's birthday with the magical mystical murder mystery THE GREAT GAMBINI (1937).  Demarest was born in St. Paul, Mn on 1892, grew up in northern New Jersey, later serving in the army in WWI.  He appeared, with his wife, in Vaudeville for 20 years before starting an over 50 year career in movies and television appearing in works ranging from The Jazz Singer to It's A Mad Mad Mad Mad World often playing a police investigator.  Then, in the 1960s, helanded perhaps his best known role as Uncle Charley on the TV sit-com My Three Sons.  In our feature, after a mentalist predicts a millionaire will never wed, the playboy is found murdered and suspicion falls on many suspects including his fiance and her family. Police Sgt Kirby (Demarest) moves in to investigate.. Starring William Demarest, Akim Tamiroff, and Reginald Denny.
A serial and a movie, pirate treasure and a birthday – it's a Mystery Action Double Feature on your home for B-movies… and Uncle Charley to the rescue!  Beta Max TV!!!