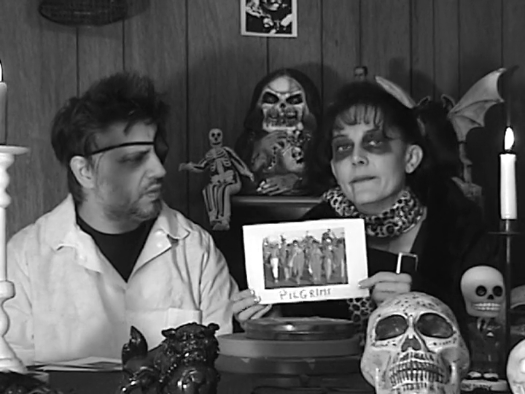 TURKEYS AND TELEPORTATION – ON THE DUNGEON OF DR. DRECK!!!
It's Thanksgiving and Dr. Dreck and Moaner are discussing the story of the holiday while showing SECRET OF THE TELEGIAN on this week's Dungeon Of Dr. Dreck!  In this 1960 Japanese-made science fiction film, a mad scientist working on top secret projects develops a transporter to seek revenge on fellow soldiers who left him for dead in a cave at the end of WWII after he tried to prevent them from stealing gold from the people of Japan. Moaner presents her version of the Thanksgiving story that leaves Dr. Dreck a bit flabbergasted. And Madame Nicotina answers viewer mail in this Turkey Day episode!
Learn about turkeys in love from Moaner and see some teleporting terror in the Dungeon Of Dr. Dreck on your home for B-movies…  and all sorts of turkeys!  Beta Max TV!!!