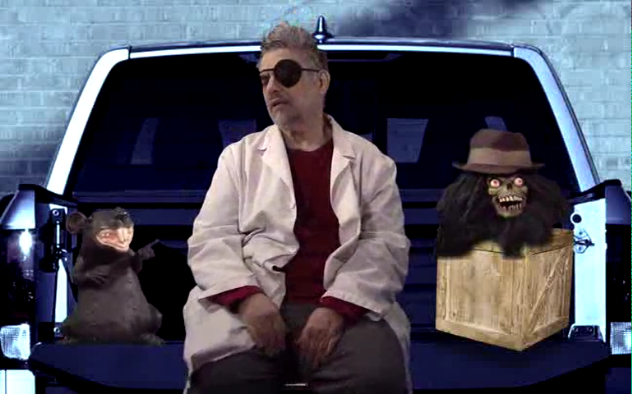 IT'S SUMMER! TIME FOR THE DRIVE-IN – AND SLIME PEOPLE – ON DR. DRECK!!!
Summer's finally here!  Warm nights – just perfect to see a grade B movie in the great outdoors.  And that's where we're heading for THE SLIME PEOPLE on The Dungeon Of Dr. Dreck!  Dr. Dreck, Shrunken Ed and Stu head to the drive-in for this foggy 1963 sci-fi thriller.  A race of slime men, driven from their underground world by atomic tests, attack Los Angeles using a deadly fog. Plus, there's a Duck Dodgers cartoon!  Dr. Dreck heads to the snack bar but encounters a "smart" ATM and a whole lot more trouble than he planned on!
Grab snacks from home, hop in your car and head to the drive-in with Dr. Dreck for THE SLIME PEOPLE on your home for B-movies… and fog, lots of fog!  Beta Max TV!!!