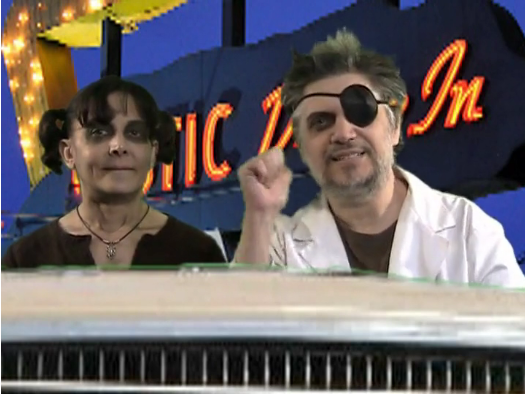 A TOUCH OF THE GREEN – MARTIAN GREEN – ON THE DUNGEON OF DR. DRECK!!!
We've got a little green for St. Patrick's Day – Martian green skin – in DEVIL GIRL FROM MARS (1953) on The Dungeon Of Dr. Dreck.  With the weather getting a little warmer, Dr. Dreck and Moaner hit the drive-in for this sci-fi film.  A spaceship lands near a peaceful English country inn.  The passengers – a sinister Martian woman and her deadly robot – terrorize the guests at the inn in search of men for breeding stock to take back to Mars. And don't forget to visit the snack bar!
Don't talk to strange alien women (or their robots) – you might hear unexpected wedding bells!  But do watch DEVIL GIRL FROM MARS on your home for B-movies… and alien dating services!  Beta Max TV!!!