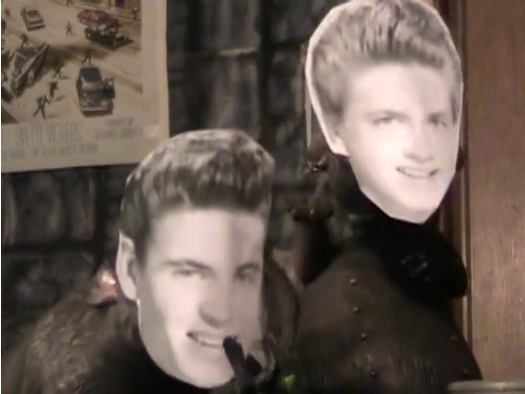 DR. DRECK HAS A HAUNTED HOUSE AND CANDY – TODAY ON BETA MAX TV!!!
We've got some frights and trick or treaters as Spooky Scary Month continues with The Dungeon Of Dr. Dreck presentation of  TERROR IN THE HAUNTED HOUSE (1958).  A woman has recurring nightmares about a haunted house while under psychiatric treatment in Switzerland.  But after she moves with her new husband to his family estate, she finds that it's the house of her nightmares and the source of strange events that have plagues her husband's family for years!  One of two films ever filmed in Psychorama, a unique process incorporating not-so-subliminal bits popping up from time to time!
Dr. Dreck has to stay at the Dungeon while everyone else gets to go trick or treating and has some less than fun experiences with some of the trick or treaters!  Moaner comes up with the scariest costume ever!
A haunted house and bags of candy – a perfect combination for The Dungeon Of Dr. Dreck and Spooky Scary Month on your home for B-movies… and creepy houses!  Beta Max TV!!!