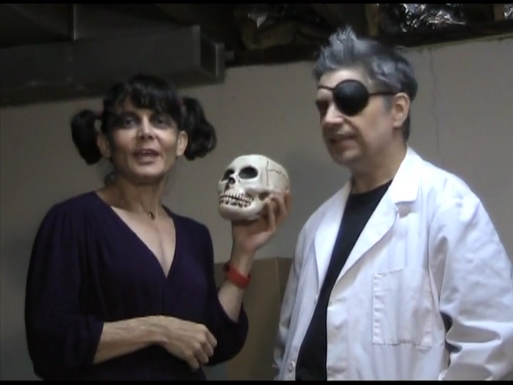 YOU'RE GONNA NEED A BIG SWATTER FOR THE BEASTIE ON THE DUNGEON OF DR. DRECK!!!
You think mosquitos are a flying nuisance – well, you ain't seen nothin' yet!  Join Dr. Dreck and Moaner the Zombie Cheerleader for THE FLYING SERPENT on The Dungeon Of Dr. Dreck!  In this 1946 monster film, a demented archaeologist (George Zucco) discovers and captures an ancient Aztec flying serpent (Quetzalcoatl) and learns how to control it to kill his enemies.
Dr. Dreck and Moaner have headed to the basement of the Dungeon to do some cleaning and turn up a few interesting items and bring up a few interesting memories.  Suzy Button drops in to perk things up and the Space Rats have an adventure!
Hopefully this serpent won't fly over your car – things might not turn out well for your windshield.  But things will turn out just fine when you watch THE FLYING SERPENT with Dr. Dreck on your home for B-movies… and weird flying things!  Beta Max TV!!!