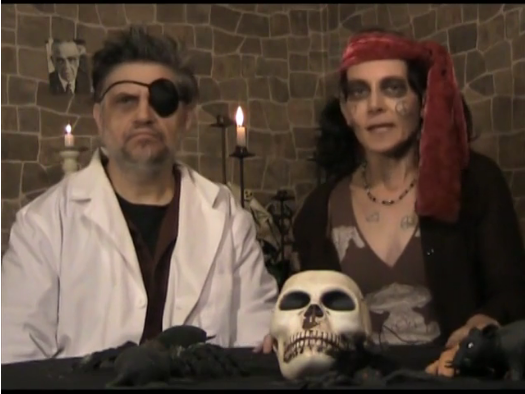 VAMPIRES INVADE AND MOANER GET WORRIED – TODAY ON THE DUNGEON OF DR. DRECK!!!
Join Dr. Dreck and Moaner the Zombie Cheerleader this week for the Mexican horror classic INVASION OF THE VAMPIRES on The Dungeon Of Dr. Dreck!  This second in a 2 movie vampire story line finds the powerful vampire Count Frankenhousen and his followers terrorizing a village and a vampire hunting doctor trying to stop the evil.
Moaner says vampires are wimpy and zombies a way tougher.  But when Dr. Dreck points out how zombies have a weak spot – namely their brain – she gets worried and asks the doctor to help.  So he develops a serum to create a protective shield around her brain but it comes with an unexpected side-effect.  Plus there a visit from The Old Nutcase and Suzy Button pops in too!
Get ready for the invasion from The Dungeon Of Dr. Dreck on your home for B-movies…and surprise visitors!  Beta Max TV!!!