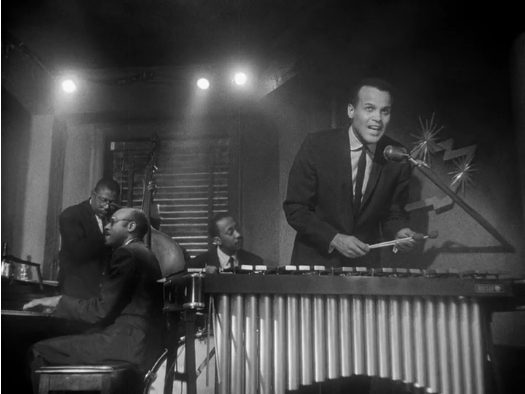 CELEBRATING HARRY BELAFONTE'S BIRTHDAY WITH A LITTLE CRIME – TODAY ON BETA MAX TV!!!
Singer, songwriter, actor, activist Harry Belafonte was born in Harlem, NY this day (March 1) in 1927.  After serving in the navy in WWII, he went to NYC where he met Sidney Poitier.  Developing an interest in acting, he turned to singing to finance his acting classes, getting his first regular singing job fronting the Charlie Parker band consisting of Charlie, Max Roach, and Miles Davis.  Starting as a pop and jazz singer, he developed an interest in folk music and evolved in one of the premier calypso singers in the country.  His acting career started to take off in the early 50s with roles in movies such as Bright Road, Carmen Jones, and Island In The Sun.  Unhappy with the available roles, he turned his attentions more fully to singing in the 1960s earning the nickname "King Of Calypso" for his popularizing of the style.  He continued singing and returned to acting in the 70s, remaining actively involved in the civil rights movement throughout his career.
To celebrate Harry's birthday, today Beta Max TV has the 1959 film noir drama ODDS AGAINST TOMORROW.  Produced by Belafonte's own production company, HarBel Productions, it tells the tale of three very different but angry and financially challenged men planning a large bank heist.  Belafonte plays a nightclub performer with a family and a serious gambling addiction that has him in deep trouble with the mob.  Ed Begley is an ex-cop who lost his job when he wouldn't cooperate with state investigators and now wants to make a killing and get revenge against the system.  And Robert Ryan plays a bigoted, down on his luck ex-GI, ex-con who needs cash to support his girl and blames all his woes on everyone but himself.  They hatch a scheme to steal a large payroll at an upstate bank but their hatred for the world and each other soon starts to unravel their plan and endanger their lives.
So pick your libation, tip your fedora, and dim the lights for this gritty noir ODDS AGAINST TOMORROW as we celebrate the great Harry Belafonte's birthday on your home for B-movies…and occasional brushes with calypso!  Beta Max TV!!!