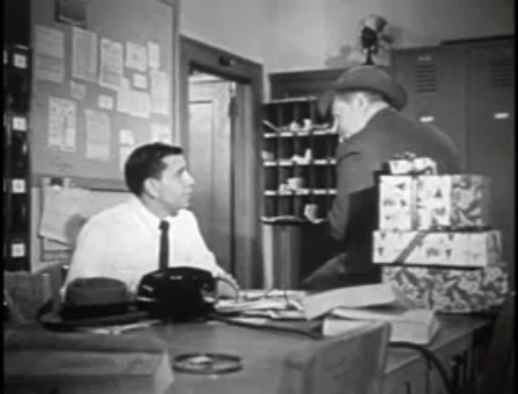 CRIME AND SHOPPING – A CLASSIC CHRISTMAS COUPLING TODAY ON BETA MAX TV!!!
We've got two more tales of Christmas carryings-on today on Beta Max TV!
First, an visit to the acclaimed police drama with the theme song anyone can name in four notes – DRAGNET! In this episode from the early years called THE BIG LITTLE JESUS (1953), when someone steals the baby Jesus figure from a church's Nativity scene, Sgt. Joe Friday and his partner Officer Frank Smith are called in to investigate.
Then it's Betty White as Vickie Angel in her early TV series DATE WITH THE ANGELS. In this episode – SANTA'S HELPER (1957), Vickie's neighbor Mr. Finley (Burt Mustin) wants to feel useful at Christmas time, so Vickie gets him a job as Santa Claus at the local department store where the management is not immediately taken by Santa's generous nature with the store's merchandise!
It's all about taking and giving for today's installment of our Christmas Festivities on your home for B-movies…and Santa!!!  Beta Max TV!!!