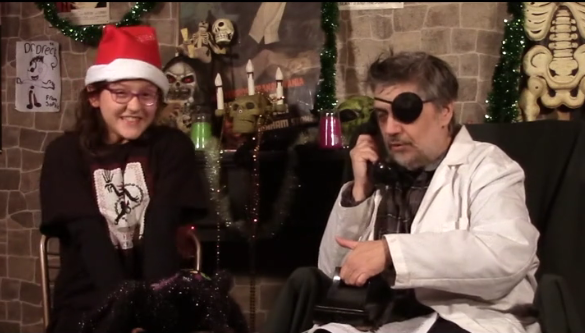 GETTIN' DELINQUENT FOR CHRISTMAS WITH DR. DRECK – TODAY ON BETA MAX TV!!!
There's a strange voice and a visitor today as The Dungeon Of Dr. Dreck presents THE OPEN DOOR (1966). Created for the British anthology series Mystery and Imagination, The Open Door stars Jack Hawkins as a British soldier returning to England after a long assignment in India. He finds his son gravely ill in bed and tormented – tormented by an unearthly voice! But is the voice imagined or a real spirit with a sinister purpose?
Dr. Dreck has a visitor to the festive looking Dungeon – his niece Dreary! He pulls out the old family album to share some of his favorite photos of the many times he was kicked out of school and he even provides a little advice to Dreary on how she might keep up the family tradition!
Hear the eerie voice and get some tips on getting kicked out of school in a proper manner as
The Dungeon Of
Dr. Dreck gets all Christmassy on your home for B-movies…and holiday truancy! Beta Max TV!!!