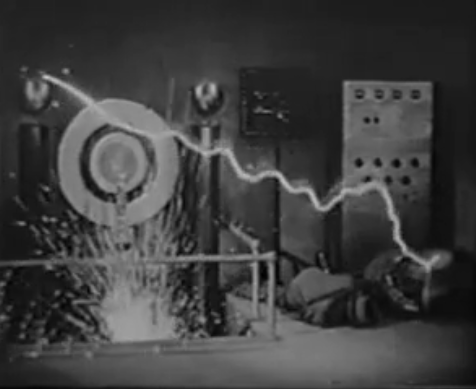 LOTS OF ACTION AND A TURKEY FOR DESSERT – TODAY ON BETA MAX TV!!!
We've got the conclusion of the cliffhanger and some holiday fun on Beta Max TV!
It's the exciting climax of THE MONSTER AND THE APE today on DON'S Breakfast Serial! Don's got the last five chapters of this 1945 Columbia serial about an evil gang stealing a powerful new robot – the Metalogen Man – and the fight to recover it. It stars Robert Lowrey and legendary side character Willie Best. Plus there's an episode of the 1950s television series Commando Cody – "Captives Of The Zero Hour".
The it's time for a screwball turkey day with the 1951 BURNS AND ALLEN SHOW THANKSGIVING. Neighbor Blanche's husband places a bet on a horse with the same name as his business partner's wife and Gracie thinks he's fooling around. Wackiness ensues as they all gather at the Burns' house for Thanksgiving.
It's action, fun, and turkey at this stop on the Road To Thanksgiving on your home for B-movies…and wacky holidays! Beta Max TV