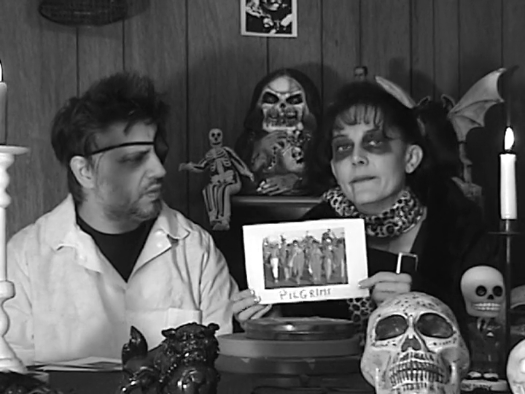 TELEPORTING AND TURKEY – TODAY ON THE DUNGEON OF DR. DRECK!!!
Learn the origins of the holiday and how to take revenge on those who've wronged you with The Dungeon Of Dr. Dreck and SECRET OF THE TELEGIAN. It's a 1960 Japanese sci-fi adventure about a soldier who is left for dead by his comrades near the end of World War II. But there more to the story – the group of soldiers was stealing gold at the time. So after the war, the abandoned guy develops a method to teleport himself so he can take his revenge on those who deserted him (and kept all the gold).
Preparing for Turkey Day, Moaner the Zombie Cheerleader reads her report on Thanksgiving to Dr. Dreck with a rather interesting interpretation of the origins of the holiday traditions. And Madame Nicotina reads some viewer mail.
It's down-home wacky with Dr. Dreck and SECRET OF THE TELEGIAN on your home for B-movies…and teleporting turkeys! Beta Max TV!!!