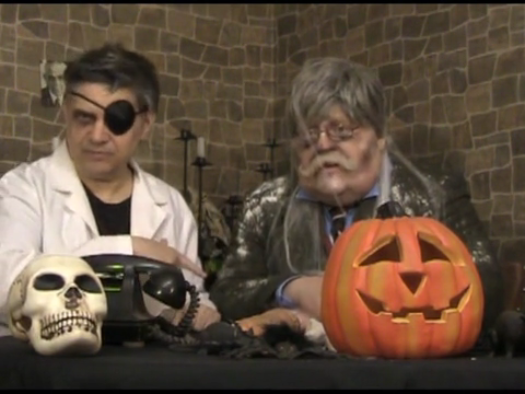 A PERSONALITY CRISIS AND TRICKS OR TREATS ON THE DUNGEON OF DR. DRECK!!!
It's Halloween on The Dungeon Of Dr. Dreck and one of the treats is a pair of British horror legends in I, MONSTER this week on Beta Max TV! Christopher Lee and Peter Cushing star in this 1971 adaptation of the Jekyll and Hyde story about a doctor who develops an experimental drug that brings out the evil in man. He decides to try it on himself and transforms into a murderous fiend!
Trick or Treaters fill the neighborhood around – and inside – the Dungeon! Moaner the Zombie Cheerleader decides to chaperone the rats for a night of trick or treating. Meanwhile, Madam Nicotina and Shrunken Ed try to rekindle their Halloween spirit and Uncle Mess stops by looking for his wife – or at least the urn she was last seen in.
It's tricks, treats, and terror as Spooky Scary Month continues with The Dungeon Of Dr. Dreck on your home for B-movies…and tasty treats! Beta Max TV!!!