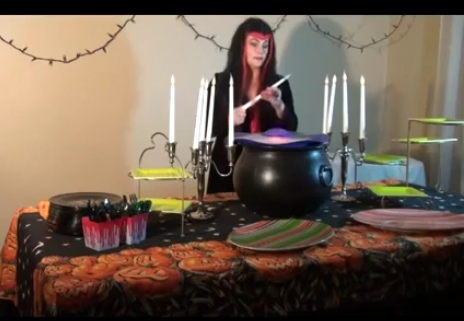 TRICKS OR TREATS AND HALLOWEEN EATS WITH ARACHNA AND THE CLAMPETTS AS SPOOKY SCARY MONTH CONTINUES!!!
We've got two Halloween treats today as we pay a visit with the Campetts and pick up some clever cooking tips from a good friend of Arachna Of The Spider People as the October fun and frights continue on Beta Max TV.
On a 1962 episode of The Beverly Hillbillies called TRICK OR TREAT, Granny is depressed because no one comes to visit the Clampett's house like folks did back home in the hills. So Jed decides that the family should call on their neighbors and unknowingly picks Halloween to do so. The Clampetts are thrilled with all the hospitality, not knowing they are mistaken for trick-or-treaters!
And speaking of treats, Arachna of the Spider People from Beware Theater pays a visit to her friend Alexis for some helpful hints on FEARLESS COOKING WITH ALEXIS. Arachna and Alexis give tips on cook yummy creepy treats like eyeball eggs and mummy weenies and ghost pizzas as well as show you some how-to's on decorating and throwing a Halloween party.
Conjure up some eats, put up some creepy decorations and get ready to party with the Clampetts and Arachna as Spooky Scary Month continues on you home for B-movies,,,and Halloween parties!!! Beta Max TV!!!