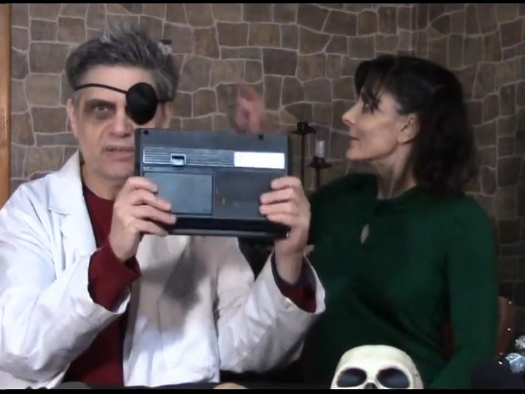 SPIRITS IN THE STONES HAUNT THE DUNGEON OF DR. DRECK THIS WEEK ON BETA MAX TV!!!
Since this Wednesday is October eve and October is Spooky Scary Month at Beta Max TV, we're paying a visit to The Dungeon Of Dr. Dreck for the 1972 British-made ghost story THE STONE TAPE. A team of researchers moves into an old Victorian house to work on developing a new recording medium to replace magnetic tape. While there, they experience a ghostly apparition. Aware of the "Stone Tape" theory that purports that energies from the past are trapped, or recorded, in the surrounding stones of an area and later emerge as psychic forces or ghosts, they realize that paranormal forces are trapped in the walls of the house. Rather than just study the phenomenon, they try to exorcise the spirit – with terrifying results!
Using a portable cassette recorder, Dr. Dreck and Moaner attempt to record their own ghostly sounds that might be trapped in the stones of the dungeon walls – with some darn near terrifying results of their own!
So get ready for October with THE STONE TAPE, September's ghostly exodus from The Dungeon Of Dr. Dreck on your home for B-movies…and stoned ghosts! Beta Max TV!!!