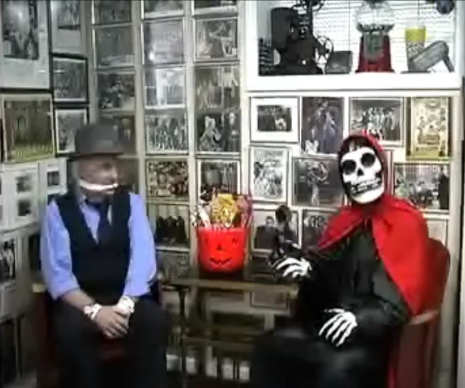 WAY-OUT ZOMBIES MAKE THE SCENE ON DON'S BREAKFAST SERIAL HALLOWEEN SPECIAL!!!
High flying "zombies" from outer space threaten Earth on Don's Halloween Special presentation of ZOMBIES OF THE STRATOSPHERE today on Beta Max TV. Don's gotten a bit "tied up" so this week's DON'S Breakfast Serial has a special guest host just perfect for the Halloween season – The Crimson Ghost!
The Martians have decided they want to move Mars into Earth's orbit. So to make space in space, they plan to use a super powerful H-bomb to blow Earth right out of its orbit. Don (or rather Crim) has the complete 1952 serial in this show (and in color!) plus some Superman cartoons for fun! And watch for Leonard "Mr. Spock" Nimoy in one of his early roles!
Rocket suits, space ships, interplanetary action and a special guest (g)host! It's all here in Don's Halloween Special on your home for B-movies…and space zombies! Beta Max TV!!!