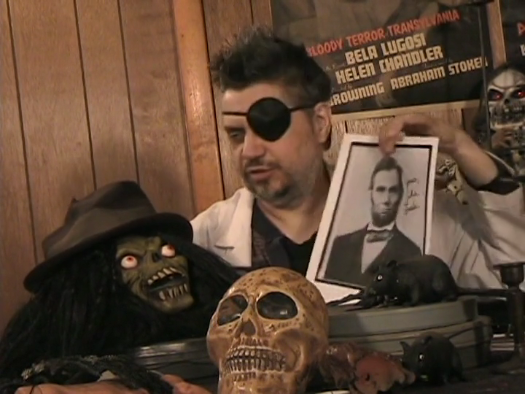 ALIEN INVASIONS AND CELEBRITY AUTOGRAPHS – DR. DRECK'S GOT THEM BOTH TODAY ON BETA MAX TV!!!
There's an alien invasion and some shady memorabilia sales on Beta Max TV today as The Dungeon Of Dr. Dreck presents BATTLE OF THE WORLDS. This 1961 Italian sci-fi feature stars Claude "Invisible Man" Rains. A planet, on a collision course with Earth, suddenly moves into orbit around Earth and begins an attack with a fleet of flying saucers. It's up to Prof. Benson (Rains) to figure out how to stop this invasion from destroying Earth.
Shrunken Ed has decided to make money by selling celebrity autographs. The celebrities include Abraham Lincoln and Vlad the Impaler and the only problem is that Ed is signing all the autographs himself – and Dr. Dreck is not to thrilled about it.
Join the battle to save the Earth and maybe pick up a signed photo of your favorite celebrity (real cheap) from The Dungeon Of Dr. Dreck on your home for B-movies…and shifty shrunken heads! Beta Max TV!!!