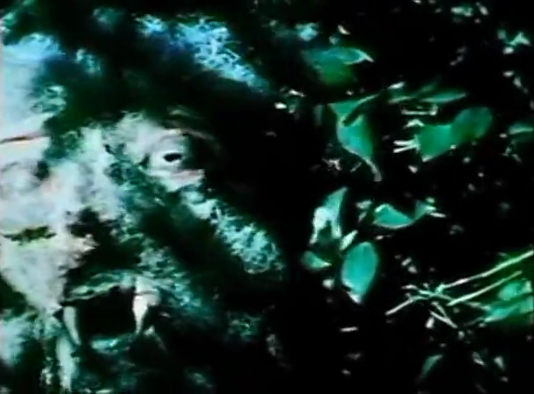 THE FOOTPRINTS ARE EXTRA-LARGE FOR "MISSING LINK" MONDAY ON BETA MAX TV!!!
That big, hairy guy of the upper northwest takes center stage today as Beta Max TV presents CURSE OF BIGFOOT! A teacher and Bigfoot expert tells high school students of an archaeological dig he led 5 students on 15 years earlier that unearthed a giant mummy that came back to life to terrorize their small California community.
This 1975 horror film is actually an embellished version of a 1958 film by the same director (Dave Flocker) entitled "Teenagers Battle The Thing". The original was only released locally to the area in which it was filmed. Extra surrounding footage and an additional bit of story were added to frame the original movie and create this mid-70s release.
Cheezy monster, cheezy story and bad acting. Overall, a fun frolic with the famous fellow of full-sized feet! And it's all here today on you channel for B-movies…and prodigious pedal extremities! Beta Max TV!!!