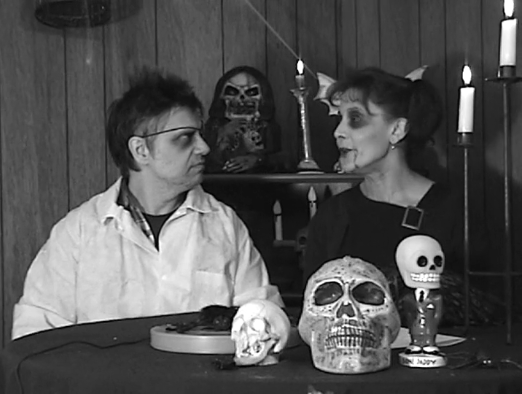 GET A HEAD – WITH THIS WEEK'S DUNGEON OF DR. DRECK!!!
It's more Mexican monster mania on Beta Max TV with this week's Dungeon Of Dr. Dreck presentation of THE LIVING HEAD (1963). In this K. Gordon Murray import, archaeologists disturb the tomb of a 16th century Aztec general awakening his disembodied head and his avenging servant who searches out the offending intruders.
Dr. Dreck and Moaner discuss taxes while a horde of zombie IRS agents storm the house. Madame Nicotina considers a make-over and answers important questions from viewers' mail with Shrunken Ed – sporting quite the make-over himself!
There's no need for formal dress – or even a body. Join Dr. Dreck for THE LIVING HEAD on your home for B-movies…and cranial capers! Beta Max TV!!!