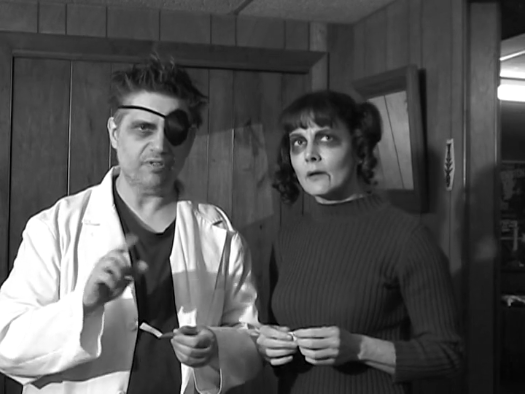 BRAIN'S ARE ON THE MENU AT THE SNACK BAR FOR DR. DRECK'S DRIVE-IN!!!
A B-movie, a cartoon, and a raffle at the snack bar – it's Drive-In fun on Beta Max TV this week as The Dungeon Of Dr. Dreck presents the 1958 Roger Corman film THE BRAIN EATERS at a special episode of Dr, Dreck's Drive-In! Drive-In features are all the rage again, and this one won't let you down as strange brain parasites connected with a mysterious cone shaped object that crashed to Earth are attaching themselves to the residents of a small town.. Plus, Bugs Bunny has trouble with a Gremlin in FALLING HARE.
Meanwhile, Groaner is running some kind of raffle from the Drive-In's concession stand. No one really knows what the prize is and Groaner is a little hazy on how to run a raffle, but everyone buys a ticket anyway!
So find a parking space, turn off your headlights and settle in for a nice summer's night of entertainment with THE BRAIN EATERS from Dr. Dreck's Drive-In on your home for B-movies…and outdoor fun! Beta Max TV!!!