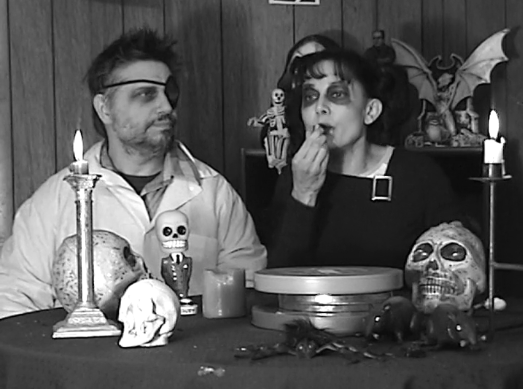 A VAMPIRE, A GHOST AND A COLLEGE FINAL EXAM – IT'S A BUSY DAY AT THE DUNGEON OF DR. DRECK!!!
We've got an obscure vampire film, a secret code, and a final exam as Beta Max TV heads down to The Dungeon Of Dr. Dreck for THE VAMPIRE GHOST (1945)! An investigator heads to a small African village where several bodies have turned up drained of blood and with two puncture marks on their necks. The local natives suspect the owner of the town's nightclub is a vampire – and they just might have something there!
Groaner has been taking an on-line college course and made arrangements to take her final exam on the show to prove she isn't cheating. But she's also set up a secret code and made arrangements for Moaner to feed her the answers!
Will the vampire be discovered? Will Groaner get kicked out of on-line college? Tune in for all the horror and academia as The Dungeon Of Dr. Dreck presents THE VAMPIRE'S GHOST on your home for B-movies…and higher education! Beta Max TV!!!