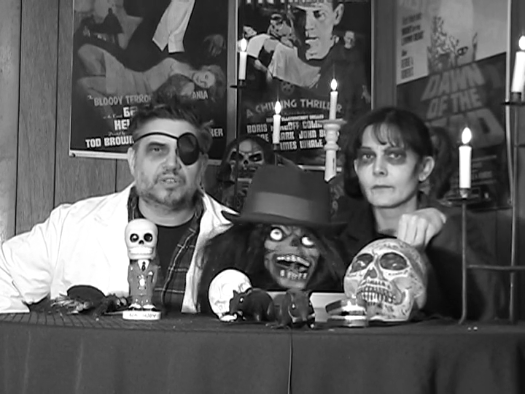 BODY BODY, WHO'S GOT THE BODY? MAYBE DR. DRECK DOES – TODAY ON BETA MAX TV!!!
"I Ain't Got No Body" could be the theme song today on Beta Max TV when Dr. Dreck and Moaner the Zombie Cheerleader present 1968's BODY SNATCHER FROM HELL on The Dungeon Of Dr. Dreck! This Japanese sci-fi gem follows the people on a plane containing a bomb and a hijacker that doesn't have a chance to get hijacked because it has a collision with a UFO first. Both the UFO and the plane crash land on a remote deserted island. The plane's passengers start disappearing and turning up with strange forehead scars or completely drained of blood as the alien vampire blobs begin to make their move!
Hearing the movie title, Dr. Dreck's corporeal-challenged chum Shrunken Ed figures that if there are body snatchers in Hell, maybe one of them snatched his body too. So Dr. Dreck and Moaner decide to take legal action and call a lawyer from Hell to try to locate Shrunken Ed's body.
Bad guys, bombs, and blood-sucking blobs are running wild this week in BODY SNATCHER FROM HELL on your home for B-movies…and a blob or two! Beta Max TV!!!