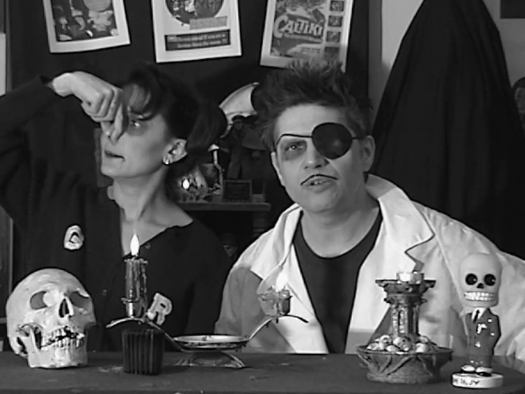 DON"T GO RO-MAN AROUND! STAY IN AND WATCH ROBOT MONSTER ON THE DUNGEON OF DR. DRECK!!!
In honor of the Ides Of March occurring earlier this week, Beta Max TV brings you a story about a Roman. Or more precisely, a Ro-man. Join Dr. Dreck and Moaner the Zombie Cheerleader for the classic (as in classicly bad) B-movie ROBOT MONSTER (1953) on this week's Dungeon Of Dr. Dreck! Ro-Man Extension XJ-2, better known as simply Ro-man, is an alien sent to Earth to destroy all humans. But Ro-man finds difficulty doing so with a small group of people who are resistant to his Calcinator Death Ray and he must try different means to complete his mission while they try to save the planet.
Moaner reads her school essay on the topic of "People Who Make B-movies", a touching tome-ette if ever there was one. And Madame Nicotina explains some of the signs from her own bizarre version of the zodiac.
A gorilla in a space helmet, dinosaurs, death rays, and Dr. Dreck! It's all here in this week's Dungeon Of Dr. Dreck on your home for B-movies…and Ro-men! Beta Max TV!!!