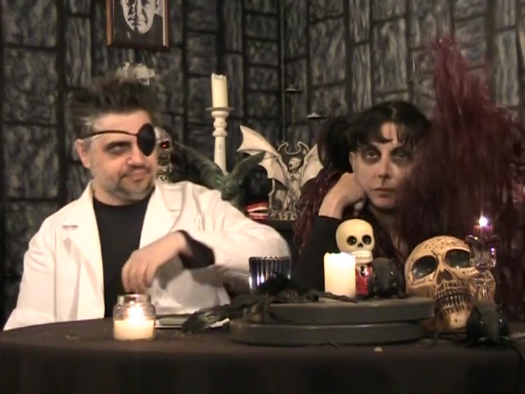 A MAD EXECUTIONER, A SAD CHEERLEADER, AND DR. DRECK – TODAY ON BETA MAX TV!!!
Vicious vigilantes, decapitations, and cheerleading. Does that stuff go together? Well, it does in this week's episode of The Dungeon Of Dr. Dreck on Beta Max TV! Join Dr. Dreck for the 1963 German-made movie THE MAD EXECUTIONERS. Based on a story by Bryan Edgar Wallace, it features a hooded gang of vigilantes taking the law into their own hands and executing "criminals" with a hangman's noose stolen from Scotland Yard. There's also a killer decapitating women for his experiments to use the heads to create robots. Are the two crimes connected? Scotland Yard is on the case! Meanwhile, Moaner the Zombie Cheerleader is depressed because no place will let her be a cheerleader anymore. So Dr. Dreck tries to come up with a solution to her problem.
Show some spirit for murders, mad doctors, and mayhem on this crime/horror/sci-fi hybrid from The Dungeon Of Dr. Dreck on your home for B-movies…and cheers!!! Beta Max TV!!!