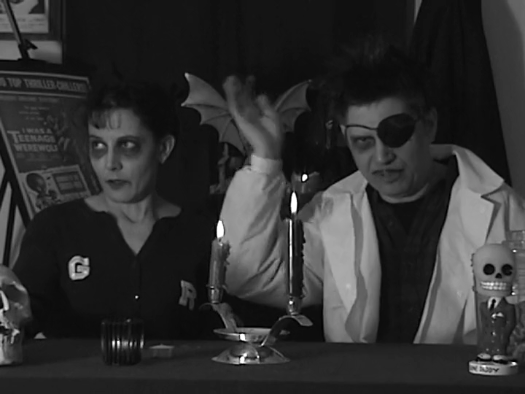 A WINTER MONSTER AND A SUMMER ADVENTURE! IT'S DR. DRECK AND APOLOGY NONE TODAY ON BETA MAX TV!!!
Whether you're north or south of the equator, we've got your season here today on Beta Max TV!
The Dungeon Of Dr. Dreck covers the winter as the good Doctor and Moaner present THE SNOW CREATURE (1954). Scientists in the Himalayas discover a family of yetis and capture one. They ship it back to Los Angeles and while the customs officials are trying to decide it it's an immigration issue or a cargo issue, the yeti escapes. I guess yetis don't like bureaucracy!
Apology None covers the summer, not only with frontman Terry Summer but with the just released trailer for the upcoming full-length Apology None movie THE LAST PAGE OF SUMMER. Scheduled for release later this year, The Last Page Of Summer follows Psychedelic Rock's Grooviest Cartoon Band as they run up against evil forces that want to eliminate all things groovy once and for all!
It's a Monsters and Music Monday with The Dungeon Of Dr. Dreck and Apology None on your home for B-movies…and groovy yetis! Beta Max TV!!!