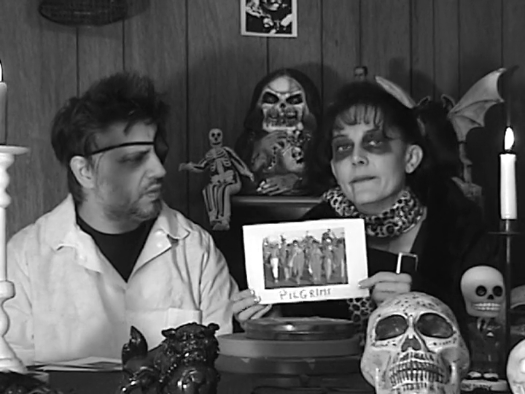 KICK YOUR THANKSGIVING SEASON UP A NOTCH WITH JAPANESE SCI-FI ON THE DUNGEON OF DR. DRECK!!!
It's Thanksgiving Month and as usual, Beta Max TV has several Thanksgiving themed programs on the menu for the rest of November. And the first slice of Turkey television comes today with The Dungeon Of Dr. Dreck Thanksgiving Show. Dr. Dreck has a bit of non-monster Japanese sci-fi from 1960 called SECRET OF THE TELEGIAN! At the end of WWII a troop of Japanese soldiers assigned to guard a scientist and his top secret work decide to steal a pile of gold. When one of the soldiers tries to stop them, he is stabbed and left with the scientist and the gold in a sealed cave. He escapes and years later develops and uses a matter transporter to exact his revenge on those who wronged him
Back at the Dungeon, Moaner returns from researching the origins of Thanksgiving and reads her somewhat different history report on the holiday (including the part about Curtis Mayfield) to Dr. Dreck. And.Madame Nicotina answers viewer mail, including one from Rod Serling's ghost.
So get your Thanksgiving holiday in motion with some Japanese sci-fi from Dr. Dreck and on your home for B-movies…and holiday history (sort of)! Beta Max TV!!!