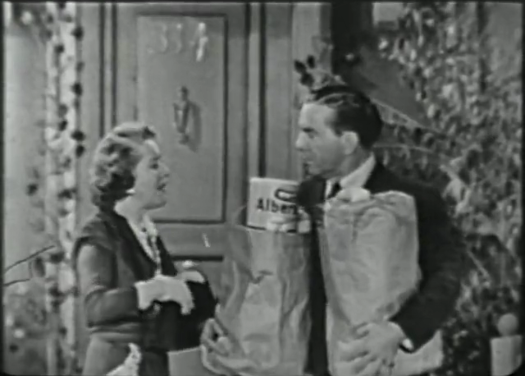 DEATH RAY AND TURKEY – A DOUBLE HEADER OF DELICIOUSNESS – TODAY ON BETA MAX TV!!!
We've got another serving of Thanksgiving Themed Thespianism – and a little action to help work off some of the goodies – today on Beta Max TV!
First a big bowl of bad guys, action and suspense on DON'S BREAKFAST SERIAL with chapters 6 – 10 of the 1944 serial CAPTAIN AMERICA! Capt. America may meet his match as the Scarab moves to get hold of the destructive Electronic Firebolt. Extras include the savings bond promo short Stamp Day for Superman (1954) and the Superman cartoon Mechanical Monsters.
Then it's time for flavorful fun and maybe a turkey dinner on THE GEORGE BURNS AND GRACIE ALLEN SHOW THANKSGIVING episode from 1951. George and Gracie's neighbor Harry Morton places a bet on a horse with the same name as the wife of Harry's business partner. When Gracie overhears it, she thinks he's fooling around and when all of them gather at the Burn's house for Thanksgiving dinner later that day, the kind of wacky hi-jinx that only Gracie can cause ensues.
Comedy and action as George and Gracie join Captain America this week to save the world and eat some turkey on your home for B-movies…and eating! Beta Max TV!!!