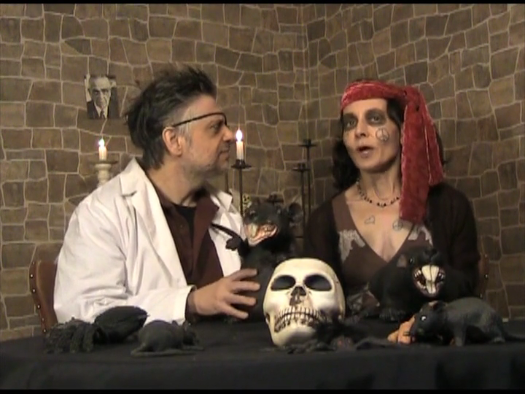 I SCREAM, YOU SCREAM FOR I, MONSTER!!! IT'S A DR. DRECK HALLOWEEN SPECIAL!!!
SPOOKY SCARY MONTH continues on Beta Max TV today with a special Halloween episode of The Dungeon Of Dr. Dreck! Dreck's Uncle Messy stops by for a visit while they show the 1971 Christopher Lee/Peter Cushing film I, MONSTER! In 19th century London, a doctor (Cushing) develops a drug that wipes out good inhibitions and releases the inner evil in people. He experiments on his patients for a bit then decides to partake of it himself – to nasty and disastrous results!
And speaking of disastrous results, Moaner and the rats and several other members of The Dungeon gang get involved with a little Trick Or Treating in the neighborhood. Even the urns containing Aunt Ashley and Uncle Singe get into the act!
Get an early slice of Halloween and the treat of Cushing and Lee on a Dungeon Of Dr. Dreck Halloween show featuring I, MONSTER. Another spooktacular special on your home for B-movies…and treats! Beta Max TV!!!