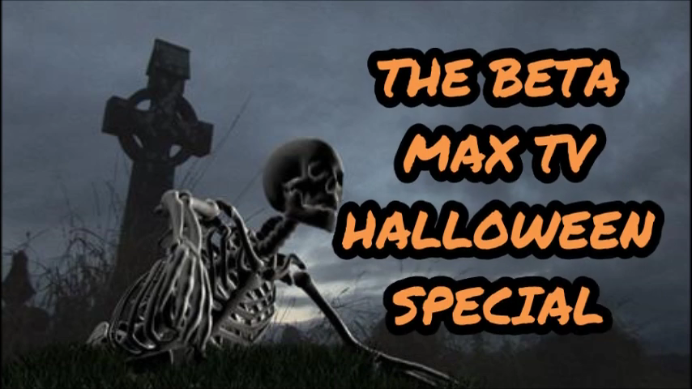 NO TRICKS – ALL TREATS!!! IT'S THE BETA MAX TV HALLOWEEN SPECIAL!!!
What do you get when you add a whole bunch of Halloween humor, a pile of frights, and more hosts than you can shake a pumpkin at? You get the brand new Beta Max TV HALLOWEEN SPECIAL!!!
We've collected a whole coffin-load of Halloween-themed cartoons spanning more than 30 years including Betty Boop, Popeye, both Tom and Jerrys, Flip the Frog, Oswald the Rabbit, and lots and lots of skeletons. Then we threw in an equal amount of trailers and tidbits filled with monsters, beasts, and maniacs. And speaking of maniacs – we topped it all off with a horde of hosts bringing you their very special Halloween greetings. Put them all together and they don't spell Mother, but they do make for 2 hours of great Halloween treats!
So grab that bowl of candy before the trick or treaters get at it, warm up your TVs and have some fun! It's the BETA MAX TV HALLOWEEN SPECIAL on your home for B-movies…and GREAT hosts! Beta Max TV!!!
(Apology None, Molly The K, Beware Theater, The Dead Vault Horror Show, DON'S BREAKFAST SERIAL, Freezer Mortis, Mausoleum Of The Macabre, The Midnight Movie, Mistress Peace Theatre, Mondopiece Theatre, ScreamingSoup.com, Spine Chilling Cinema, The Horror Of It All's Silent Screams, and Uncle Pete)