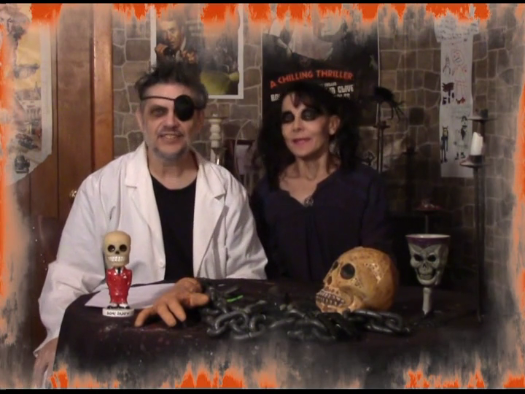 HALLOWEEN HORRORS FROM MARQUIS DeBLOOD, DR. DRECK AND BETA MAX TV!!!
Happy Halloween! To give you a fright or two between trick or treaters or maybe while you turn out the lights so they pass your house by, Beta Max TV has two Halloween hosted features for you this Halloween day.
On The Horror Of It All's Silent Screams Halloween Thingy, the Marquis De Blood takes time out from his Halloween preparations to show THE OVAL PORTRAIT (1928) – based on the Edgar Allen Poe story of an obsessed artist, and the Thomas Edison film of Mary Shelley's FRANKENSTEIN – the very first film adaptation of the classic horror story (1910).
Then it's The Dungeon Of Dr. Dreck Halloween Special! Dr. Dreck and Moaner celebrate Halloween with VOODOO MAN, the 1944 Bela Lugosi film about a mad doctor who uses voodoo to try to revive his long dead wife. Dr, Dreck also premiers his new streaming service – Nutflix!
Need something scary to watch while you polish off the rest of the Halloween goodies? We've got it for you today on your home for B-movies…and Happy Halloween!!! Beta Max TV!!!