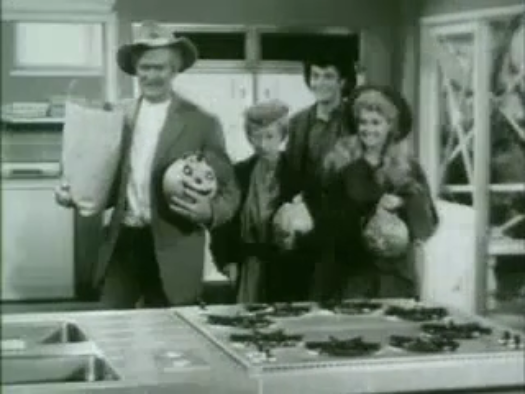 TUNE IN TO "TRICK OR TREAT TELEVISION TUESDAY" TODAY!!!
SPOOKY SCARY MONTH always holds a few surprises! Like today's Beta Max TV double feature on Trick Or Treat Television Tuesday – two Halloween themed comedies from the Golden Age Of Television!
First it's the HALLOWEEN PARTY episode (1952) from The Adventures Of Ozzie And Harriet. When it looks like there's not going to be any Halloween party this year, Ozzie and his neighbor Thorny decide to set up the perfect get-together but things don't go quite as planned. Look for Jerry "Beaver" Mathers in a cameo as a trick-or-treater!
Then it's off to the hills – Beverly Hills – for the 1962 episode of The Beverly Hillbillies – TRICK OR TREAT! Granny's very upset that no one ever comes to call and she's ready to head back home for good. So Jed decides that the family should call on their neighbors and unknowingly picks Halloween to do so. The Clampetts are thrilled with all the hospitality, not knowing they are mistaken for trick-or-treaters in great hillbilly costumes!
TRICK OR TREAT TELEVISION TUESDAY! A couple more treats for your B-movie goodie bag from your home for B-movies…and surprises! Beta Max TV!!!