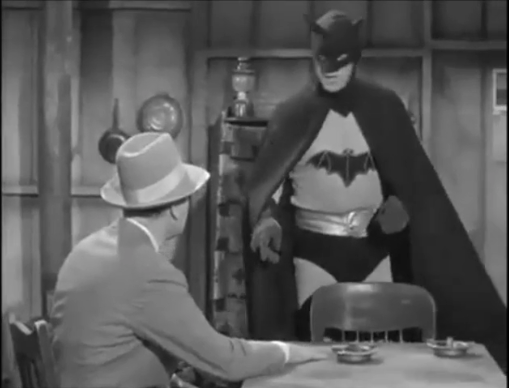 MORE CAPED CRUSADER CRIME FIGHTING TODAY ON BETA MAX TV!!!
With Summer gone and Halloween weeks away, the robins have left and the bats haven't arrived yet. But today on Beta Max TV's Cliffhanger Monday, we've got a robin and a bat and they're wearing capes! Tune into DON'S Breakfast Serial for the next installment of the 1949 serial BATMAN AND ROBIN! In Part.2 (episodes 6 – 10), the Wizard continues his quest for diamonds to power his remote control device capable of controlling all vehicles from afar while the Caped Crusaders try to foil his plans and save reporter Vicky Vale. Plus Don has an episode of the television show The New Adventures Of Charlie Chan and a Superman cartoon – SECRET AGENT!
.
It's action, adventure, and danger with the DON'S Breakfast Serial presentation of BATMAN AND ROBIN – Pt. 2 on your home for B-movies…and crime-fighting flying things! Beta Max TV!!!