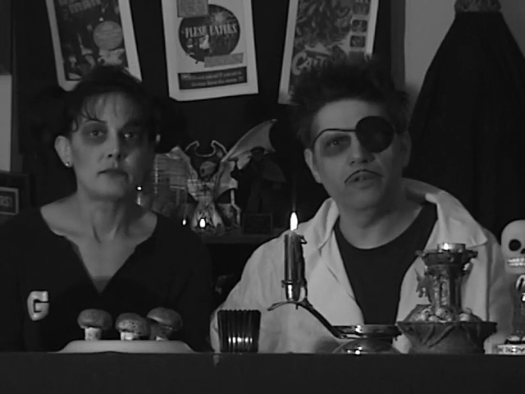 A FUN GUY WITH FUNGI – DR. DRECK AND THE MUSHROOM PEOPLE!!!
All that rain got you down? Humidity too high? It's good weather for mushrooms. Just hope they're not the kind that walk around.
And that's the kind we have on Beta Max TV today as The Dungeon Of Dr. Dreck presents ATTACK OF THE MUSHROOM PEOPLE! This Japanese horror film from 1963 (also known as Matango) tells the story of a group of people on a party cruise who get shipwrecked on a mysterious island. The partiers wander around the island and find another wrecked ship filled with strange but edible mushrooms. But the side effect of eating them is you turn into a giant mushroom creature!
Back in The Dungeon, Moaner the Zombie Cheerleader decides since the mushrooms in the movie are smarter than she knew that she can teach her own fungus fab four to sing. And Madame Nicotina makes an appearance with a psychic rabbit.
It's a tale of truffle terror from The Dungeon Of Dr. Dreck. ATTACK OF THE MUSHROOM PEOPLE on your home for B-movies…and pizza toppings!!! Beta Max TV!!!