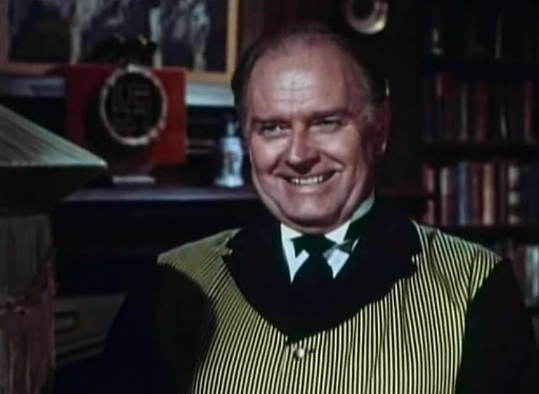 IT'S BAER-LY POSSIBLE – IT'S PARLEY BAER'S BIRTHDAY!!!
He's one of those guys whose face and voice you probably recognize instantly, but you may not know his name! So Beta Max TV is celebrating his birthday today!
Parley Edward Baer was born August 5, 1914 in Salt Lake City, Utah. A character actor on radio, TV and in the movies for 6 decades, he first worked as a circus ringmaster and radio events coordinator before he joined the U.S. Army Air Force during WWII. After the war, he worked as a wild animal trainer while doing voice work on a variety of radio programs landing, in 1952, his biggest role as Chester on the long running Gunsmoke serial.
Gradually, he made the transition to television and film where he frequently played a hot-headed or stubborn neighbor, friend, or public official. Most notably, he had recurring roles on The Andy Griffith Show (Mayor Stoner), The Addams Family (Mayor Henson), and The Adventures Of Ozzie and Harriet (neighbor Herb Darby).
To celebrate Parley's birthday, we have a star studded comedy from 1969 called WAKE ME WHEN THE WAR IS OVER. During the closing months of WWII, a lonely German Baroness (Eva Gabor) hides a downed U.S. pilot (Ken Berry) on her estate – a secret known only to her and her butler (Parley Baer). But she enjoys his company so much, she neglects to tell him that the war has been over for quite some time. Also starring Werner Klemperer, Hans Conried, and Jim Backus, it's WAKE ME WHEN THE WAS IS OVER.
From ringmaster to Marshal Dillon's sidekick to the Mayor of Mayberry. Happy Birthday Parley Baer from your home for B-movies…and small town mayors! Beta Max TV!!!