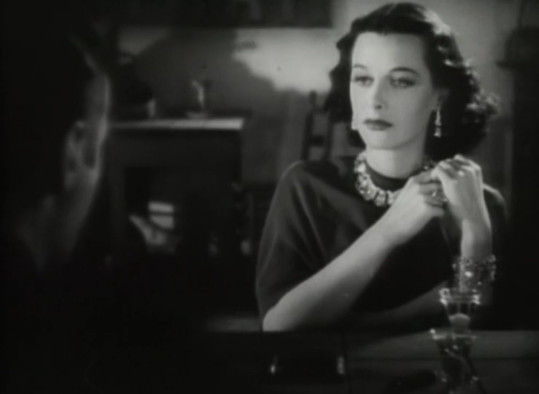 COME WITH US TO THE CASBAH AND MEET A FAMOUS INVENTOR (AND A PRETTY GOOD ACTRESS TOO)!!!
This day in 1942, a U.S. Patent was issued for a frequency-hopping spread spectrum communication system for use in Allied torpedo guidance and designed to make them harder to detect or jam. This spread spectrum method became the basis for technologies used in modern wireless telephones, wi-fi, and bluetooth systems. Who was the inventor who received this patent? Marconi? Tesla? Steinmetz? No, no, and no! It was none other than the exotic, beautiful, and talented actress Hedy Lamar!!!
On August 12, 1942, Hedy Lamar and avant-garde composer Geroge Antheil were awarded a patent for this new frequency-hopping method. Both Lamar and Anthiel were inducted into the National Inventors Hall Of Fame in 2014 for this invention. So we here at Beta Max TV salute the lovely and inventive Miss Lamar by presenting her first U.S. film appearance – ALGIERS (1938). Charles Boyer stars as master jewel thief Pepe Le Moko. (note – This Boyer character was the inspiration for the creation of cartoon skunk legend Pepe Le Pew!) After a big heist, Le Moko takes refuge in the mysterious section of Algiers known as the Casbah. He soon becomes the leader of the district, respected and feared by one and all. But French Inspector Slimane (Joseph Calleia) is still on his trail and Le Moko more and more feels trapped in his exotic refuge. Enter Hedy! When he meets the beautiful Gaby (Lamar) on vacation from France, his desire to leave intensifies, risking his safety and freedom. A Casablanca-like movie that predated Casablanca by 4 years.
So prepare for mystery, intrigue, and adventure and come with us to the Casbah for Hedy Lamar's introduction to U.S. movie-going audiences – ALGIERS! It's right here on your home for B-movies…and exotic international beautiful actress/inventors! Beta Max TV