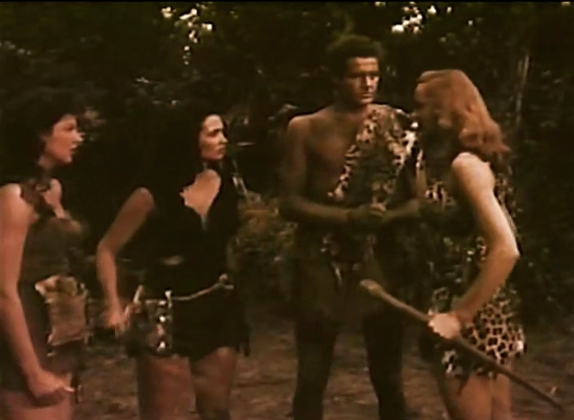 RETRO BEACH FASHION – ABOUT A MILLION YEARS RETRO! – AND DINOSAURS!!! PREHISTORIC WOMEN – TODAY ON BETA MAX TV!!!
Animal prints are all the rage in today's Exploitation Monday feature on Beta Max TV. We're going way back to when dinosaurs roamed the Earth (1950 AD) for PREHISTORIC WOMEN!!! A tribe of women – who prove that before the existence of boutiques and salons, cute outfits and great hair-dos came naturally – hate men but go on occasional round-ups to gather some of them for breeding purposes. One of the men – Engor – gets captured, escapes, discovers fire, fights giant beasties, then gets recaptured. And for Tigri, the leader of the women's tribe, he's the apple of her eye too!
This is the original version of the 1967 movie of the same name starring Martine Beswick. Just to make sure you can follow the intricate plot, this 1950 version has a narrator to explain the details. Laurette Luez, who stars as Tigri, had a successful career as a commercial model, also notably appears as a exotic jungle-type woman in Jungle Gents with The Bowery Boys where she utters the immortal (and her only) line "Kiss Kiss Kiss" – a performance certainly influenced by her performance here.
Action, Danger, Romance!!! It's all here in PREHISTORIC WOMEN, this week's Exploitation Monday feature on your home for B-movies…and retro animal print fashion!!! Beta Max TV!!!