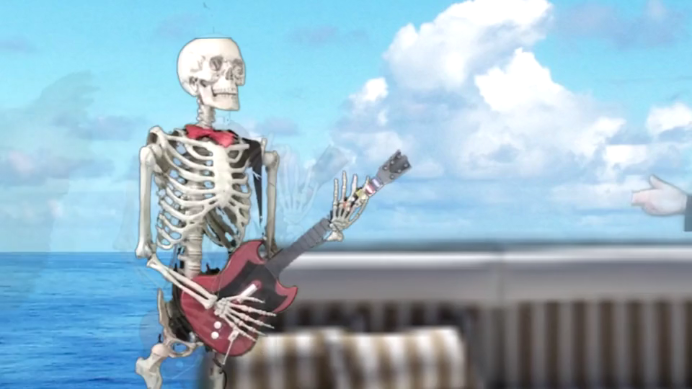 HIT THE HIGH SEAS WITH ARACHNA FOR A CALMING CREATURE CRUISE ON THIS WEEK'S BEWARE THEATER!!!
We took a Beta Max TV B-movie ocean cruise on Monday and we're not headed for port quite yet! Put on your deck shoes and watch your back as Arachna Of The Spider People and her serenading skelton Deadly present the 1961 Roger Corman horror comedy CREATURE FROM THE HAUNTED SEA on this week's Beware Theater! An American crook joins in with Cuban revolutionaries to steal gold from the Cuban treasury. His plan is to bump them off one by one as they escape on his boat and blame the deaths on a mythical sea monster. But things don't go his way when the real monster shows up!
Arachna and Deadly head on-board a fancy yacht for a funeral (why else?) of the most recent husband of Arachna's worst nightmare – cousin Spida from New York. Attendees include some pretty interesting characters and the buffet includes pie – LOTS of pie! (Don't forget to duck!)
Gold stealing, back-stabbing, flesh-rippng, and even a little singing! It's all here and lots of fun when Arachna presents CREATURE FROM THE HAUNTED SEA! It's this week's Beware Theater on your home for B-movies…and googly-eyed monsters! Beta Max TV!!!