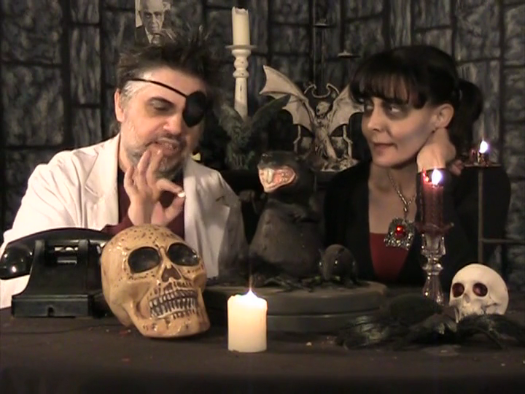 A SWAMP STRANGLER AND A DEADBEAT RAT – DR. DRECK IS BUSY TODAY ON BETA MAX TV!!!
Has the weather been kind of warm and sticky where you are? Feelin' kinda swampy? Things are swampy AND dangerous this week for The Dungeon Of Dr. Dreck on Beta Max TV. Join Dr. Dreck and Moaner the Zombie Cheerleader for the 1946 hot and humid horror happening STRANGLER OF THE SWAMP. People start turning up dead around a town on the edge of a swamp. Strangled! And the residents are certainthat the killer is the ghost of a man lynched by a group of townspeople and he's come back to seek revenge!
Dr. Dreck finds that Stu the rat has been borrowing money from the Dungeon denizens and others and never pays it back. So he comes up with a little pill that just might solve the problem.
A ghost and a swamp. Strangulations and a deadbeat rat. There are debts of all kinds that need to be paid this week on The Dungeon Of Dr. Dreck. STRANGLER OF THE SWAMP – spooky action and financial solvency in a pill on your home for B-movies…and swamps! Beta Max TV!!!