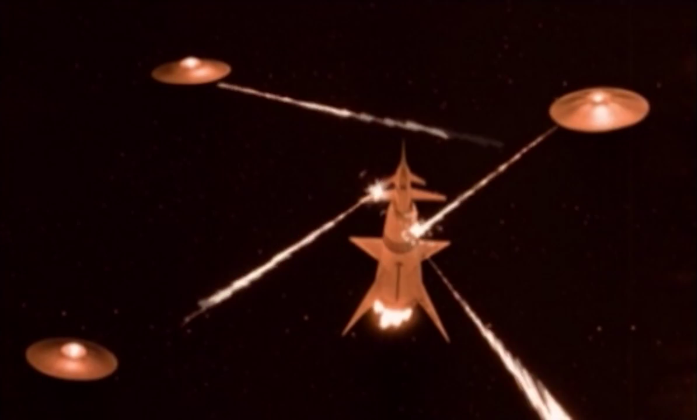 LOOK TO THE SKIES (OR THE HANGARS) – IT'S ROSWELL DAY ON BETA MAX TV!!!
July 8, 1947, the U.S. Air Force released a report involving the Roswell, New Mexico area. A few days (or some say a few weeks) earlier, a rancher had found pieces of the wreckage of what he claimed was an unidentified craft that crashed from the sky onto his land. A mysterious object.  An unidentified craft. A flying thing. That's right – an Unidentified Flying Object or UFO! And that's the report that kicked off a UFO fever that still exists today. So to recognize the importance of this report to life, science, and B-movies, Beta Max TV presents a special Roswell Day Celebration.
First, a little music. An exclusive Beta Max TV UFO music presentation – The dRIVIN bEATS from the Maryland area with a video of UFO – one of their songs found on the Tuna Forsushi Records compilation Live Your Gimmick, Vol. 1.  Next a little footage from the place itself! ALIEN ENCOUNTERS (1994) is a short documentary of the discovery of the mysterious wreckage (and more) found near Roswell and the connection with Wright-Patterson Air Force base. Finally, it's time for some good B-movie UFO battling in BATTLE OF THE WORLDS (1961). In this Italian made sci-fi epic, Claude Rains stars as a professor who discovers a stray planet on a collision course with Earth. But the situation gets action packed when a horde of flying saucers launched from the planet begins attacking Earth's space force!
UFOs in song, news and sci-fi! A triple treat for the 72nd anniversary of the report that launched a phenomenon and welcomed those "who walk among us in human form"! It's Roswell Day on your home for B-movies…and unidentified things! Beta Max TV!!!