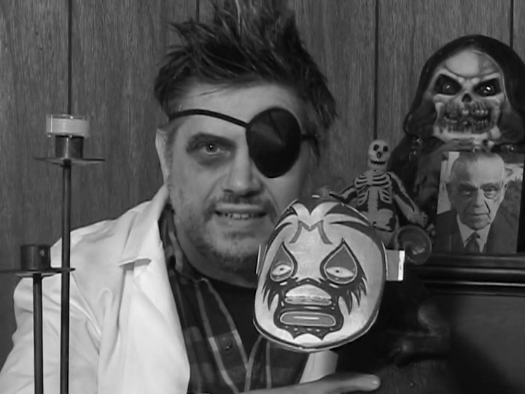 LEAPING LUCHADORAS – IT'S WOMEN'S WRESTLING WEDNESDAY WITH DR. DRECK ON BETA MAX TV!!!
Women wrestlers, a mad doctor, brain transplants, a gorilla-man, and a rat with a mask! It's a full card of fun and action in The Dungeon Of Dr. Dreck on Beta Max TV. Join Dr. Dreck, Stu the rat (the newest masked wrestler), and Moaner the Zombie Cheerleader for the 1963 Mexican wrestling sci-fi action film DOCTOR OF DOOM (aka – Sex Monster). An evil doctor and his gorilla-man are kidnapping women to perform brain transplants. But the sister of one of the victims is a professional wrestler/crime fighter (in the mold of the Blue Demon and El Santo). She swears vengeance on the doctor and with the help of some of her fellow wrestlers, seeks to take him down!
Dr. Dreck is hanging out with Stu the rat who has decided to pursue a new career as a luchador – fancy mask and all – and his first opponent will be none other than Godzilla!!!
It's women wrestlers vs, evil with a gorilla-man thrown in for extra flavor. DOCTOR OF DOOM – classic action in and out of the ring – with The Dungeon Of Dr. Dreck on your home for B-movies…and luchadoras!!! Beta Max TV!!!