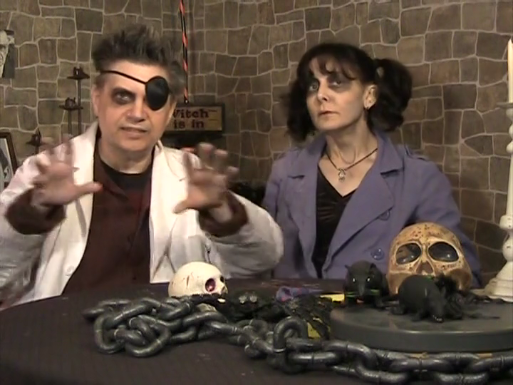 WHAT'S SCARIER THAN DR. DRECK AND A MAN DEVIL? DR. DRECK'S NEIGHBOR – THE INSURANCE SALESMAN!!!
Beta Max TV heads down to the dungeon today – The Dungeon Of Dr. Dreck. Come on down with us as Dr. Dreck and Moaner the Zombie Cheerleader present Lon Chaney, Jr. and John Carradine in 1965's BLOOD OF THE MAN DEVIL! Chaney and Carradine play warring warlock brothers who use all their powers and covens of witches in a battle to gain control of the family estate. A movie with at least as many plot lines as directors (3), after it was initially completed, one of the secondary directors was called in to film more scenes to flesh it out a bit and make it longer (but not necessarily to make it more coherent!). Lots of belly dancing witches though, featuring cult movie stand-out Sabrina who is best known for the numbers 42 1/2 – 19 – 36.
Dr. Dreck always has a collection of frightful friends, but in this episode their neighbor Mr. Maniac drops in with an extra frightening fright – an insurance policy that really does cost an arm and a leg!
Pull out those old spells and get ready for The Dungeon Of Dr. Dreck's presentation of BLOOD OF THE MAN DEVIL on your place for B-movies, Belly dancing…and more! Beta Max TV!!!