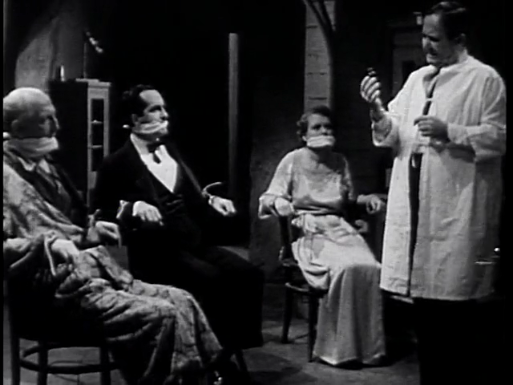 ANOTHER GHOST, ANOTHER MURDER – ANOTHER CELEBRATION OF THE BETA MAX TV ANNIVERSARY!!!
It's our "1st" anniversary here at Beta Max TV (see previous posts for more details!), so here's another happy party-type movie also celebrating an anniversary – an anniversary of MURDER!!!
THE GHOST WALKS (1934) starts on a dark and stormy night – a good way for a scary B-movie to start, for sure! When a producer, his secretary, and a playwright run off the road on said dark and stormy night, they seek refuge at the nearby creepy house of a mutual friend-doctor. Also at the house is a slightly deranged woman whose husband was murdered – and it just happens to be the anniversary of the murder! The house guests are certain they see ghosts wandering the halls of the house, but things go from spooks to worse when people start turning up dead. Is it the handy work of the deranged patient or is something far more sinister going on? (We vote for number 2!)
A cocktail, a nice dinner, and a murder or two – just the way to celebrate the anniversary of your home for B-movies…and more – Beta Max TV!!!