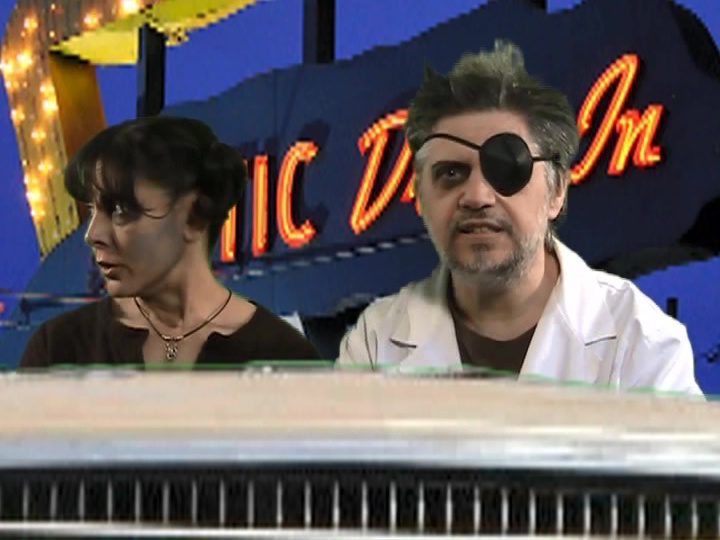 DR. DRECK VISITS BETA MAX TV AND BRINGS A FRIEND FROM OUT OF TOWN – WAAAY OUT OF TOWN!!!
Beta Max TV welcomes The Dungeon Of Dr. Dreck back and this time it's an episode of Dr. Dreck's Drive-In. So park your car, hit the snack bar, and hang the speaker on your window for DEVIL GIRL FROM MARS (1953). A powerful, sinister Martian woman clad in a form-fitting leather space suit (properly accessorized with a tasteful cape and ray gun).makes an unplanned landing in the English countryside after a fender-bender with an airplane. She and her robot buddy were heading to London to gather up some menfolk for the purpose of breeding stock back on Mars.
You may have heard that Mars needs women. Well, this time they need men because the women killed most of the Martian guys off in a war. So, the guests at a nearby country inn now become her targets to become the mystery dates for the Martian maidens. It's ray gun and robot versus bed and breakfast to preserve all Earthlings' rights to an uninterrupted vacation!!!
Dr. Dreck and Moaner the Zombie Cheerleader guide us through all the action as Groaner holds down the snack bar and Madame Nicotina wanders about, certain that this movie is in 3-D. From outer space to inner inn – DEVIL GIRL FROM MARS on The Dungeon Of Dr. Dreck – special Drive-In edition – today on Beta Max TV!!!