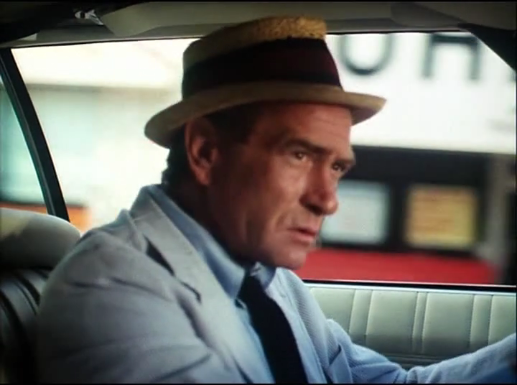 REMEMBERING DARREN McGAVIN – NIGHT STALKER MONDAY ON BETA MAX TV!!!
A veteran of 60 years on stage, screen, and cathode ray tube, Darren McGavin passed away 13 years ago today (February 25). Appearing in dozens of TV series from Death Valley Days to Fantasy Island and movies from Hot Lead And Cold Feet to Airport '77, he is probably best remembered by fans of horror, B-movies, and classic TV as Carl Kolchak, investigative reporter with a bent for the bizarre – as in monsters, demons, and spirits – in the short-lived television series KOLCHAK: THE NIGHT STALKER. And Beta Max TV has a couple of eerie episodes for the anniversary of his death.
Kolchak, a Chicago based reporter, had a penchant for finding demonic creatures and unearthly beings even when assigned the most benign of stories to cover. In THE VAMPIRE, Kolchak is sent to Los Angeles to report on a controversial guru. But on his way through the Las Vegas area, he encounters a vicious female vampire, unearthed by a road construction project. (If we only had a nickel for every time that happened around our studios). Then in THE WEREWOLF, he is assigned to interview the passengers on-board an ocean liner on a singles cruise. But he finds much more than budding romance when passengers start turning up dead during a full moon, the apparent victims of a wolf-like creature. (Although the presence of a wolf-like creature on a singles cruise doesn't really seem all that unusual when you think about it!)
For 20 episodes during the 1974-1975 season, Darren McGavin was Kolchak: The Night Stalker – and we've got him today on Beta Max TV!!!