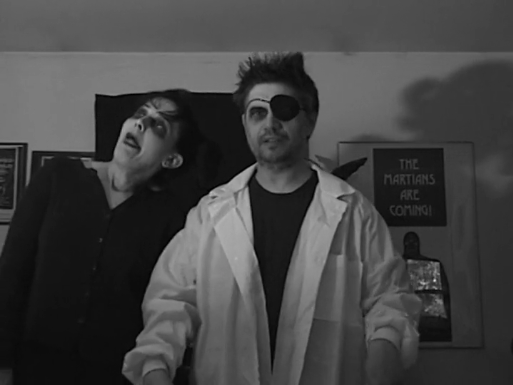 CONTINENTAL VAMPIRES…AND SLAUGHTER – IT'S DR. DRECK ON BETA MAX TV!!!
Ever go on a honeymoon and have the neighbor turn your spouse into a vampire? Yeah, I heard it's going around.
That's what happens on Beta Max TV today as The Dungeon Of Dr. Dreck presents the Italian vampire film from 1962 – SLAUGHTER OF THE VAMPIRES. The Marquis Wolfgang and his new bride head to their newly acquired castle in the German countryside to enjoy their honeymoon. They throw a party, invite the neighbors – and one of them happens to be a vampire who fancies the Matquis' wife (or at least her blood). Much biting ensues!
Dr. Dreck and Moaner (the zombie cheerleader) are in the Dungeon kicking off a new season and even have a visit from special psychic Madame Nicotina. So join the party – but don't let any of the guests put the "bite" on you! It's The Dungeon Of Dr. Dreck with SLAUGHTER OF THE VAMPIRES on Beta Max TV!!!