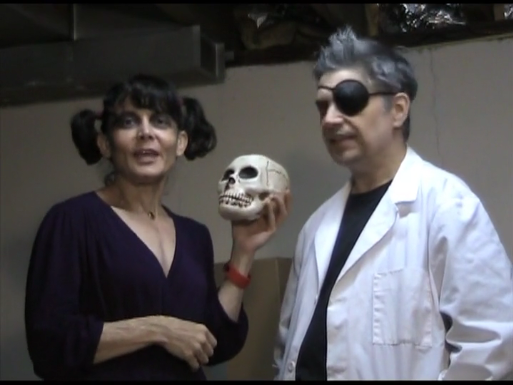 FLY HIGH INTO THE NEW YEAR (ON THE BACK OF A MAN-EATING SERPENT CREATURE)!  WE MAKE IT POSSIBLE TODAY WITH DR. DRECK AT BETA MAX TV !!!
There's an old adage that says seeing a deadly Aztec flying serpent at the start of a New Year will bring good luck. At least there's an old adage like that around the Beta Max TV environs.
So imagine our glee when we found that The Dungeon Of Dr. Dreck has just what the old adage maker ordered! It's THE FLYING SERPENT (1946). After a demented archaeologist (played by the always demented looking George Zucco) discovers an ancient Aztec flying serpent, that's a Quetzalcoatl to all you paleo-herpeto-ornithologists, he learns that he can control it to kill everyone he doesn't like and starts using this new-found knowledge. Meanwhile, back at the Dungeon, Dr. Dreck and Moaner have decided to tidy up the basement where they discover some interesting items.
Whether you believe that old adage or not, join in the fun and horror as The Dungeon Of Dr. Dreck presents THE FLYING SERPENT on your station for good luck monsters, Beta Max TV!!!