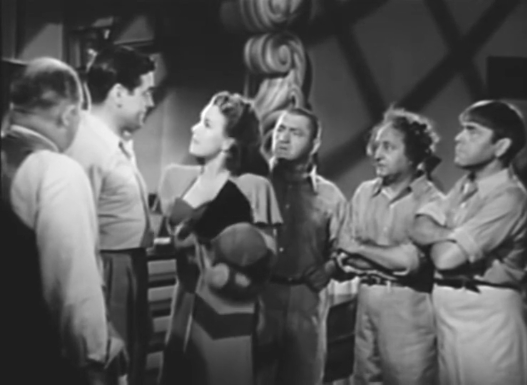 BALLROOMS, NIGHTCLUBS, BOOZE, MUSIC… AND MURDER – NEW YEAR'S EVE WITH BETA MAX TV!!!
Lavish productions and dingy nightclubs! Top notch entertainment and sleazy club owners! Comedy! Drama! Music, drinking and merriment! There's the ingredients of a good New Year's Eve Party! Throw in The Three Stooges and Lenny Bruce and you've got a GREAT New Year's Eve Party courtesy of Beta Max TV!
It's a New Year's Eve double feature of nightclub novelties with DANCE HALL RACKET and SWING PARADE OF 1946.
Start the party with DANCE HALL RACKET (1953) – written by cutting-edge social critic/comedian Lenny Bruce and also his first film. Bruce plays nasty, violent bouncer Vincent at a seedy nightclub owned by a beyond sleazy character played by exploitation veteran Timothy Farrell (Test Tube Babies, Racket Girls, Jail Bait, etc). Vincent keeps the club's working girls in line with strong-arm tactics but when a sailor turns up dead, a g-man goes undercover and turns up what just might be a diamond smuggling ring. This movie will make some of the worst movies you've ever seen look like Oscar material! A must see for all cheezy B-movie fans!
Then, keep the dancin' goin' with some swingin' songs and slap-stick stoogin' in SWING PARADE OF 1946. An aspiring singer (Gale Storm) trying to get a job at a nightclub gets mistaken for a process server then gets a job as a process server and heads back to the club that thought she was a process server. OK, that's already a little confusing. Now throw in that the father (Russel Hicks) of the club owner (crooner Phil Regan) sent her to close down the club she wants to work at because Dad wants sonny- boy to work in the family business. And to really add to the confusion, throw in the Three Stooges as waiters in the club. Who wouldn't want to go to a place like that!!! A song-filled comedy fest with additional performances by Louis Jordan's and Will Osborne's big bands, it's a perfect way to dance and laugh your way into 2019!
Serve up the snacks, break out the bubbly and have yourself a party with DANCE HALL RACKET and SWING PARADE OF 1946, no fancy dress required! It's like a B-movie Ballroom in your living room from Beta Max TV!!!