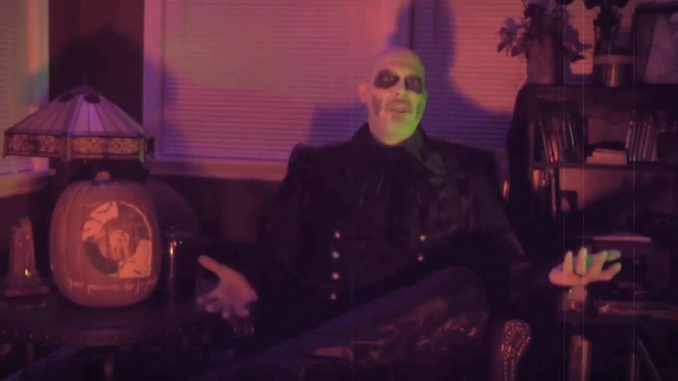 A NEW BETA MAX TV SHOW JUST IN TIME FOR HALLOWEEN – THE MARQUIS DeBLOOD AND THE HORROR OF IT ALL!!!
As our month-long Halloween celebration continues, today we bring you yet another Beta Max TV premier with the hemoglobin-hunting Marquis DeBlood and his creepy creation THE HORROR OF IT ALL. Created by Mark Dickinson in conjunction with Damian Martin, The Horror Of It All rises every October to present some films and to cast a light on the spooky, the scary, and the creepy history, legends, and events in the Binghamton, NY area.
So today, on its Beta Max TV debut, we present 3 frightful features from The Horror Of It All. First we have THE SPECIAL HALLOWEEN SPECIAL with the Marquis sinisterly sharing 2 short and scary films – "The Last Rites of Dr. Van Helsing" and the short from Sneaky Ghost Films, "Toddler Tar Tar".
In the second installment, THE EXTRA SPECIAL HALLOWEEN SPECIAL, the Marquis DeBlood goes out amongst the living to chat with pumpkin carver Pack Rat, author/folklorist Libby Tucker, Joe Demuro (director of "Tales of Dracula"), Ari Lehman (the first actor to play Jason Vorhees) about his band First Jason, and much , much more.
The third otherworldly offering is a segment called HAUNTED BINGHAMTON. The Marquis tracks down stories of various areas and buildings purported to be haunted, including a 19th century mansion, a museum, a bar, and the park that Rod Serling frequented in his youth – and my still be visiting!
Grab a pint or two of your favorite fluid and join the Marquis DeBlood in The Horror Of It All for some films, fun, facts and legends as our special Octoboo-er offerings continue on Beta Max TV!